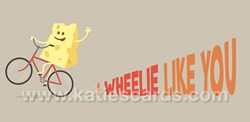 We're suckers for a good pun and we really liked the idea of of having a Valentine's Day card that held its hands up to being cheesy.
Teddington, UK (PRWEB) February 13, 2014
Katie's Cards, an ecard design studio based in London, has introduced a special ecard to their Valentine's Day collection. The design, which is now available for members to preview and send, is entitled 'Cheesy Valentine.' The theme centres on a series of pungent puns delivered by 'Mr Cheese' - a fun character who bears a striking resemblance to a big block of Emmental.
To deliver the Valentine's message, The 'Cheesy Valentine' ecard uses wordplay along with various props and actions carried out by Mr Cheese. For example, in one segment of the animation, Mr Cheese rides on a bicycle as the message 'I wheelie like you' rolls across the frame.
The amusing ecard capitalizes on the popularity of puns within the internet community, prominent on social networks like Facebook and Pinterest and shared via viral content hubs such as Buzzfeed and Reddit.
Katie Davies, artist and owner of Katie's Cards, describes how the original concept was devised: 'We're suckers for a good pun.' It's true, the company has their own 'A whole lotta pun' Pinterest board which they add to regularly. Katie continues, 'and we really liked the idea of having a Valentine's Day card that held its hands up to being cheesy. Sometimes it's hard to strike a balance between sentimental and sincere but we feel like the humour and upbeat tone of this design provides an ecard that our members don't need to be shy about sending – whether it's to colleagues, friends or even family.'
In regard to the look and artistic style of the ecard, Katie adds, 'we really wanted to create something simple but quirky, so we stuck to simple lines and a blank background for a look that's very on-trend.'
More on the development of the idea and the different stages of the design process can be found on the Katie's Card blog, including original artist sketches.
This year, Valentine's Day falls on a Friday. The day is also more formerly known as the Feast of Saint Valentine and has come to signify the annual celebration of love and affection. According to the Greeting Card Association, Valentine's Day is the second largest card-sending season in the calendar, surpassed only by Christmas.
ABOUT
Katie's Cards is a small, family-run, ecard company based in Teddington, Middlesex. The ecards on the website are exclusively available to members of the Katie's Cards website who can send unlimited ecards for the duration of their subscription. For more information and to preview the ecards please visit katiescards.com.
CONTACT
Telephone: +44 208 274 2069
Facebook: facebook.com/Katies.ecards
Pinterest: pinterest.com/katiescards/
Copyright information: This article is free for reproduction but must be reproduced in its entirety, including live links & images; this copyright statement must be included.