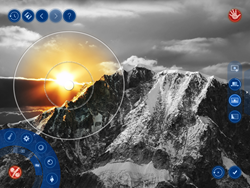 From the seasoned pro photographer to the weekend shutterbug, anyone can pick up Handy Photo and give their mobile device the editing power usually reserved for the desktop.
Dresden, Germany (PRWEB) February 11, 2014
ADVA Soft, developers of state-of-the-art image-processing applications, today announced the release and immediate availability of Handy Photo 2.0, an update to its popular all-in-one photo editing app for iOS and Android devices. Featuring a completely redesigned user interface that is highly accessible to both skilled and novice users, Handy Photo 2.0 offers an array of professional-grade editing tools, including new selective editing features for color and tone, advanced retouching tools, more than 20 professional photo filters that can be easily adjusted as needed, partial application of filters and a variety of high-resolution textures and frames.
Handy Photo's Tone & Color tool enables users to make global and local tonal and color corrections to photos, adjusting an entire image's brightness, contrast, saturation and more. With a variety of application modes, including Entire Image, Linear Gradient Mask, Elliptical Gradient Mask and Masking Brushes, tonal and color corrections can also be applied to a specific area. These selective editing features are typically found only in the most expensive and complex desktop photo editors, yet are available, lightning fast and easy to master in Handy Photo 2.0.
"Handy Photo was designed for those with a strong passion for photo editing," explains Roman Kutelmakh, ADVA Soft's Handy Photo product manager. "It is the ideal choice for correcting and enhancing photos from all possible angles. With Handy Photo 2.0, we're presenting a dynamic and fun user interface that offers an artist's palette full of professional-grade tools. From the seasoned pro photographer to the weekend shutterbug, anyone can pick up Handy Photo and give their mobile device the editing power usually reserved for the desktop."
Feature highlights of Handy Photo include:

Intuitive interface for ease-of-use
Global and local tone and color correction options
Professional-grade photo filters with a partial application option
Advanced retouching technology for mobile platforms
Move Me technology for smart objects extraction and moving
Magic Crop tool with unique photo "un-cropping" function
High-quality textures and frames
100% size image editing
Up to 36 MP image support
RAW format support
Optimized for multi-core and GPU processors
On-screen tips and video tutorials
Handy Photo 2.0 contains several improvements and additions to its original version, including its highly unique selective editing feature. Thanks to dynamic area selection technology implemented in the elliptical gradient tool, Handy Photo 2.0 attempts to recognize what object the user wants to select, providing a more intuitive experience.
Additional enhancements in Handy Photo 2.0 include:

Ability to selectively adjust tone and color in several modes
Color-picking feature in Linear gradient mask mode
Solid and Edge-aware brushes in Masking brush mode
Ability to partially apply filters and textures
New categories of textures and frames
On-screen instructions
Languages:
English, Dutch, French, German, Italian, Japanese, Korean, Portuguese, Russian, Simplified Chinese, Spanish, Ukrainian
Requirements:

iOS 4.3 or later, Android 2.3.3 or later
iPhone, iPad, iPod touch or Android device
58.5 MB
Pricing and Availability:
Handy Photo is only $1.99 (USD) and available worldwide through the App Store in the Photo and Video category. The Android version can also be purchased from the Google Play store. Review copies are available upon request.
About ADVA Soft
ADVA Soft is a software company focused primarily on developing innovative, state-of-the-art image-processing applications. Based in Germany with additional R&D facilities in Lviv, Ukraine, ADVA Soft delivers processing applications for both mobile and desktop platforms. To date, the company has successfully produced the popular applications AntiCrop, TouchRetouch (iOS and Mac) and Handy Photo. To discover more, please visit http://www.adva-soft.com.
Copyright (C) 2014 ADVA Soft. All Rights Reserved. Apple, the Apple logo, iPhone and iPod are registered trademarks of Apple Inc. in the U.S. and/or other countries. Android and Google Play are registered trademarks of Google, Inc. in the U.S. and/or other countries.