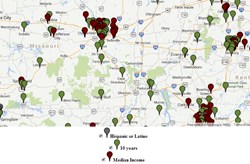 We have blown the doors open on the number of traits and the ability to select them precisely. We cannot wait to see what results from the use of this new functionality. - Jim Lewis, CEO, Enhanced Retail Solutions
New York, NY (PRWEB) February 11, 2014
Enhanced Retail Solutions (ERS), a leading provider of Software-as-a-Service (SaaS) retail analytic and demand planning solutions to licensors, suppliers and their retail trading partners, today announced the further integration of US Census Bureau data with Best Practices, ultimate Planner's tool kit.
Until now, demographic data was available in ERS' Best Practice module, as one of several actionable reports. A limited number of demographic traits were available to make the software feature approachable.
Now vast content of the Census data is available to the user. Multiple traits can now be combined to find the ideal demographic.
Retailers can study how their items perform with different consumers so as to select the right merchandise and allocate it properly. They can also use this information to select new store locations or evaluate existing ones. Marketing spends and media placement can be based upon this data as well.
Licensors and vendors can use this information to suggest test programs or help suggest distribution of certain licenses and offerings. They too can use this information to better spend their marketing dollars/placement.
"Our demographic tool, while limited to a small number of traits, has helped launch multi-million dollar programs at retail," said Jim Lewis, Founder and CEO of Enhanced Retail Solutions. "Now we have blown the doors open on the number of traits and the ability to select them precisely. We cannot wait to see what results from the use of this new functionality".
About Enhanced Retail Solutions LLC
Enhanced Retail Solutions is a New York based software and consulting firm specializing in Retail Analysis and Demand Planning for the licensor, manufacturer and their retail partners. ERS' state of the art software tools and consulting deliver critical data quickly, easily and cost effectively, adding over one hundred million dollars to their clients' bottom line. ERS' broad customer base includes industry leaders in the Electronics, Consumer Products, Apparel, Footwear, Home Textile, Toy, Home Décor, Home Improvement, Housewares, Food and Jewelry Industries. For more information, visit http://www.EnhancedRetailSolutions.com.