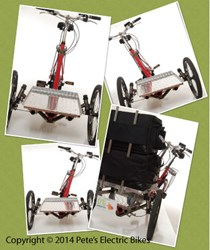 Green, fast delivery with excellent brandability.
Boulder, CO (PRWEB) February 10, 2014
Pete's Electric Bikes To Enter Restaurant Delivery Market
Pete's Electric Bikes announces today its ability to partner with various restaurants and business franchises as an enabler of environmentally friendly product delivery. Pete's is interested in partnering with businesses to provide electric bicycles as a means of green delivery and courier services.
Pete's utilizes a mid motor pedal assist design for its delivery eTrikes.
For more information about related business opportunities, please contact:
Pete's Electric Bikes
2710 Pearl St.
Boulder, CO 80302
303.586.1544
http://www.petesebikes.com
infoATpetesebikes.com