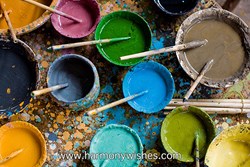 "We realize many outstanding artists don't have the budget for promotion and this is a method to add to their marketing efforts to improve visibility," explains Art Director, Michael Matlach
Scottsdale, AZ (PRWEB) February 13, 2014
HarmonyWishes,inc has announced a call for visual art submissions for photography, painting, sketching and multimedia submissions through March 15, 2014. The curated selections will be featured on the HarmonyWishes platform available for the artist to promote their work free of charge for one year.
HarmonyWishes, inc was launched in 2007 as an e-card company whose goal is to promote diversity, tolerance, and global awareness of customs, iconography and traditions throughout the world. The website has over 500 images, arranged in three galleries - Belief, Beauty and Being.
"When HarmonyWishes began we were using our own extensive portfolio of images, but in a short period of time we started getting inquiries from artists asking how they could participate," explains Meg Matlach, owner. "We started encouraging artists to submit their work for consideration and were receiving diverse photographic images from a variety of countries. We developed the concept of accepting submissions while still staying true to our brand."
"Each artist who is chosen has their website URL below the card as a link which allows for an artist to use the platform to promote themselves to the general public, as well as being used on a personal level to send event announcements, gallery openings, and general use free of charge for a year," says Art Director, Michael Matlach. "We realize many outstanding artists don't necessarily have the budget for promotion and this is a method to add to their marketing efforts to improve visibility. In addition, HarmonyWishes users can select the artist's image to make a card which further extends the reach of the viewing public."
For artists interesting in being considered, the HarmonyWishes site should be reviewed to get a sense of the focus and mission. There is a demo link on the home page which illustrates how a card is created. There is also a Submit Images tab which contains FAQ about the process. Up to 6 submissions per artist are welcome and should be sized at 1200 pixels on the long side, by 800 pixels, in jpeg format. The artists website URL should be included for review as well.
Submissions should be sent to: artdirector(at)harmonywishes(dot)com with Art Submission in the subject field. Entries will be accepted through March 15, 2014 and those selected will be notified by April 1, 2014.
About HarmonyWishes,inc
Founded in 2007, HarmonyWishes Art E-Cards mission is to provide an alternative way of communicating through a visually and intellectually stimulating choice of unique images that have a global perspective and foster spiritual diversity. In a world which is consistently bombarded by negative images and actions, HarmonyWishes provides a much needed visual sanctuary for personal reflection and communication using uplifting images, words, and music. Their galleries contain over 500 images, 250 quotes, and original music scores. More information can be found at HarmonyWishes,inc.
For The Press downloads of screen shots and sample cards are available here.
A demo of how to create a HarmonyWishes card can be found here.
HarmonyWishes also has a blog which focuses on global organizations, art, music, sustainability and a variety of cultural topics.
The company recently expanded into Fabric, Wallpaper and Gift Wrap which can be found at their storefront here.