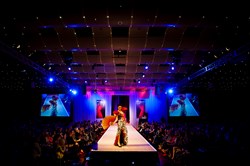 Denver is really emerging as a fashion and design engine.
Denver, CO (PRWEB) February 10, 2014
The Art Director's Club of Denver (ADCD) today announced their 10th-Annual Paper Fashion Show, to take place on Friday, March 7, 2014 at 6:00 p.m. at the Seawell Grand Ballroom, at the Denver Center for the Performing Arts. Seating options range from standing room to Ultimate VIP. Tickets start at $40 and can be purchased at http://www.adcd.com/paper-fashion-show.
The Paper Fashion Show is the largest such event in the world. "Denver is really emerging as a fashion and design engine," said Shannon Gray, ADCD Digital Chair. "We look forward to another wonderful evening of wearable art in motion." Attendees will enjoy a rare opportunity to network with and be inspired by other creatives. Artists have submitted upwards of 50 intricate and novel designs, made entirely out of paper. "We're proud to celebrate our tenth year," said ADCD President Katie Matteo. "ADCD has raised over $30,000 to benefit Downtown Aurora Visual Arts (DAVA) since the inception of the Paper Fashion Show." The nonprofit event continues to raise funds and awareness for DAVA, which provides art education programming for youth ages 3-17 in a high-risk urban community.
The competition will be judged by prominent members of the Denver fashion community, including Brandi Shigley of Fashion Denver, Craig Hanson of American Crew, and Justice Kwesi Kwarteng of The JTA Group. Monetary and in-kind sponsorships have been provided by xpedx, D&K Printing, Firehaus Salon, nxt|MODEL, Voltage Digital Advertising and Design, Beads for Life, CONTENT Public Relations, Beauty By Buford, Black Eye, CND, Cured, Denver Arts & Venues, Dynamite Laser Beam, Eye Candy Graphics, Fashion Denver, Fibermark, FIDM, HEFT, Indy Ink, International Paper, IZZE, Mohawk, Neenah, OneTouch, Philosophy Communications, Play, re.dzine, re: for your home, The Denver Egotist, The Object Shop, and Yupo Corporation. "We're grateful to our corporate and media partners, who have come together to make this year's event better than ever," said ADCD Chairman A.J. Croce.
To obtain a press pass to the event, or request collateral from past events, please contact David Scott of CONTENT Public Relations, david (at) ContentUniversal (dot) com.
About the Art Directors Club of Denver
ADCD is a local 501(c)(3) nonprofit, multidisciplinary creative organization focused on strengthening the creative community through education, workshops, informative events and annual design competitions. ADCD's goal is to foster collaboration and inspiration among creatives, elevate local talent and resources, and empower the next generation of creative professionals.
Media Contact:
David Scott
CONTENT Public Relations
david (at) ContentUniversal (dot) com
720.371.9164
###