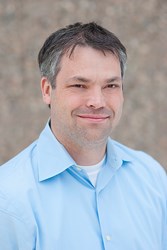 Center Partners is positioning itself to move the industry forward in a bold new direction. I am excited to be a part of it. - John Thompson
Fort Collins, Colorado (PRWEB) February 11, 2014
Center Partners recently hired John Thompson as their New Vice President of Business Development. Thompson brings over 13 years of experience to Center Partners, which in 2012 became the first ever JD Power Certified Call Center Outsourcer. Thompson is excited to leverage his 10 years of leadership experience gained from playing a key role in the expansion and successful acquisition of two separate start-up companies. This experience, coupled with his contact center industry knowledge, makes him a valuable asset for cultivating business for Center Partners. Thompson has a BA in Communications from Colorado State University, and an MBA from Creighton University.
"My decision to join Center Partners was based on the track record of CEO James P. Dunn and President Tom Maddux to recruit and retain industry talent," Thomson said. "Center Partners is positioning itself to move the industry forward in a bold new direction. I am excited to be a part of it!"
Thompon's history includes a mix of start-ups and big company successes. He has helped evolve the business of leading companies such as Xerox, Acxiom and, most recently, Teleperformance. This unique background cements a strong foundation for his new role at Center Partners.
Center Partners is a leading provider of high value customer sales and support solutions for distinguished brands requiring superior customer touch points. Center Partners services multiple industries including retail, financial services, consumer products, media, and technology companies. The company has a 100% US based workforce with 4,000 employees. Center Partners is a proud member of the Kantar and WPP family of companies.