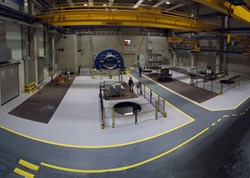 Avure listened carefully to our requirements and helped us to refine them into a solution that will optimize our manufacturing process for many years. --Hans-Michael Güther, Site Manager of SGL Group
Västerås, Sweden (PRWEB) February 11, 2014
Avure Technologies AB has successfully completed the manufacture and installation of a large Cold Isostatic Press (CIP) for SGL Carbon GmbH in Bonn, Germany.
The CIP system is part of a completely new facility built in Bonn that will support SGL Group's growth as a global supplier of carbon-based products, in particular for the metal and electronics industries. The facility was formally inaugurated on February 11, 2014.
The weight of the total installation of the new CIP is more than 900 tonnes. To date, this is the largest CIP ever built to run at this high operating pressure.
"SGL Group is pleased with the performance of our new Cold Isostatic Press," comments Hans-Michael Güther, Site Manager of SGL Group in Bonn. "In selecting Avure Technologies for this project, we considered our past 40 years' business relationship and Avure's experience in building CIPs of this scale. Avure listened carefully to our requirements and helped us to refine them into a solution that will optimize our manufacturing process for many years."
"We are proud and honored that SGL Carbon chose us for this challenging project," says Anders Eklund, Ph.D., Business Unit Director at Avure Technologies. "The selection confirms Avure's leadership position in building isostatic presses and reflects our commitment as solution provider to our customers.
"The completion of this installation has been made possible thanks to the collaboration between our respective project teams in a time frame with very strict performance requirements," Eklund continues. "We are delighted to have been chosen to assist SGL Group in retaining its position as the world's leading manufacturer of carbon products."
For more information, visit http://www.avure.com.
About SGL Group – The Carbon Company: SGL Group is one of the worldwide leading manufacturers of carbon-based products. The company's comprehensive portfolio ranges from carbon and graphite products to carbon fibers and composites.
About Avure: Avure Technologies is the world leader in providing high pressure solutions for densification of advanced materials and critical industrial parts, and the forming of sheet metal components.