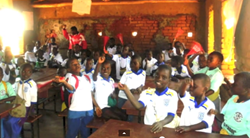 The students at Kirk Hallam did an amazing job.
Malawi, Africa (PRWEB) February 11, 2014
On October 29, 2013, the students of the Kirk Hallam school in Derbyshire began a crowdfunding campaign with US-based crowdfunding and e-commerce hybrid CabinetHardware.org. The students efforts have now been rewarded with their first payment toward their goal this past week.
"The students at Kirk Hallam did an amazing job," says CabinetHardware.org founder Dave Mason. "They put together a video, rallied their community, and got to the hundred votes needed to start receiving donations in no time."
Malawi's communities are expected to provide housing for their teachers, but lack of funding makes it difficult to impossible for some of the African nation's impoverished communities to provide even the most basic homes for teachers. After viewing a video on Malawi's education struggles, a group of student from the Kirk Hallam School in Derbyshire, U.K. organized Africa Education Aid in March 2012 to raise funds for educational necessities in Malawi, beginning with building teacher housing.
Africa Education Aid recently asked Mason for inclusion in his company-sponsored FlowOver Project that offers organizations and individuals with worthy relief projects the opportunity to earn grant money for their cause. Last spring, Mason put the first-of-its-kind program in place, wherein his CabinetHardware.org customers can voluntarily designate 10 percent of the cost of their purchases toward any one of the relief projects featured on the company's website.
In a little more than a year, Africa Education Aid has raised £3,100 ($4,987 U.S. dollars) through events such as baked good sales, Bingo competitions and coffee gatherings.
Statistics on the Jandalala Primary School that is being helped include:
A 60:1 student/teacher ratio (360 students to six teachers in all.)
Malawi's national literacy rate: 67.3% for women and 76.5 percent for men.
Statistics in rural Malawi where fundraising is aimed are even lower.
Two additional teachers would change the student/teacher ratio to 45:1.
One additional teacher would translate to 51 students to 1 teacher.
More than 1 million don't attend school in Malawi.
Only four of 38 students who finished primary school went on to secondary school.
Less than 25 percent of students go on to secondary school in Malawi.
It costs £1500 ($2,414 USD) to build one house for one teacher; so far, Africa Education Aid has raised £700 ($1,126 USD) toward teacher housing costs. Each house consists of three bedrooms, one living room and one outside bathroom and toilet; bricks and labor are provided by the community. The short-term goal is to build housing to bring one more teacher into the community, and the long-term goal is to accommodate three teachers.
"A new house will make a big difference," says Ryan Parkes of Africa Education Aid. "Four out of 38 students moving on to secondary school isn't good enough, the students simply cannot get the attention they need with 60 students in a class.
To learn more about Africa Education Aid and vote for this project, visit the Build a Teacher a House in Malawi page at CabinetHardware.org.
About CabinetHardware.org:
http://www.CabinetHardware.org is a combination e-commerce site and crowdfunding platform founded in 2013 by entrepreneur David Mason. Ten percent of every dollar spent on the site is donated to relief efforts to help needy families rebuild their homes and others in crisis. Any representative of a charitable cause can apply for one of the company's relief grants through its charitable arm, the FlowOver project. CabinetHardware.org visitors and customers vote for those grant applications they would like to see funded. No donation is necessary to vote or to purchase products. Customers who do earmark a portion of their purchase price to a cause absorb no cost for the their donation. CabinetHardware.org transfers 10 percent of each sale to deserving causes.
CabinetHardware.org is turning the traditional business model on its head by merging the crowdfunding concept with the company's successful e-commerce network by incorporating opportunities for customers to contribute to charitable causes without paying an extra surcharge to do so.
Each project featured on the CabinetHardware.org website begins with charity operators or individuals in need submitting a grant application to the company through its charitable arm, FlowOver. If the grant application is chosen, the public has an opportunity to vote on whether or not it will be featured on the CabinetHardware.org website. A project must receive 100 or more votes to qualify for assistance.