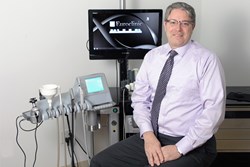 In a way, Euroclinic is a paradigm shift. - Jack Dunker, DRE's Euroclinic Sales Specialist
Louisville, KY (PRWEB) February 12, 2014
DRE — a premier medical and surgical equipment provider — recently announced that Jack Dunker will manage all product lines and services for its Euroclinic division. Euroclinic is an Italian manufacturer of highly specialized ENT equipment designed for everyday treatment and diagnostics.
With Euroclinic, Dunker said, DRE is changing the way ENT specialists think about their equipment — especially when it comes to proximity and ergonomics.
"In a way, Euroclinic is a paradigm shift," Dunker said.
The ENT workstations are designed as mobile units that allow physicians to complete examinations with minimal movement and repositioning. The workstations include custom-styled cabinetry, ergonomically designed furniture, and integrated video microscopy and endoscopy — at an all-inclusive price.
Doctors can seamlessly integrate video microscopy and endoscopy into their procedures. For Dunker, this is one of the set-up's key advantages. He said the use of new video techniques is often hindered by the logistics of traditional ENT procedure rooms.
Euroclinic also features an on-board, high-performance Zeiss pico microscope along with a complete video endoscopy suite. By using Euroclinic's wired camera, built-in imaging software and accessories, ENTs can easily examine patients and minimize time spent repositioning the patient and preparing equipment.
The sleek, European-inspired design doesn't just take aesthetics into account. In fact, Dunker said the true beauty of the equipment is how it functions and performs in harmony. The creators carefully placed each part with the user in mind, making access to anything needed during an exam or procedure within arm's reach.
In an industry where medical professionals are expected to see more and more patients, time is a commodity. For ENT specialists, having everything on-hand in a Euroclinic-type format can speed up the examination process. Valuable time wasted by switching instruments, or even moving the patient to different machines, is now available to give patients the best care possible.
Dr. Brian Affleck, an otolaryngologist with Grande Ronde ENT Clinic in La Grande, Ore., said the Otocompact Professional EVO unit from Euroclinic allows him to be more efficient in the exam room.
"I can take the patient's history and perform the exam within 20 minutes," Affleck said.
Euroclinic's innovative advancements and inclusion of high-end imaging equipment make it a worthwhile investment for ENTs that want quality, functionality and productivity. The experience for the patient is also enriched, and that is the ideal outcome for both parties.
ENT specialists looking to completely outfit their practices will find that Euroclinic's workstations are more cost-effective if sold as a unit. Customers who shop for comparable items piece-by-piece won't secure this kind of savings, Dunker said.
Click here for more information on DRE's Euroclinic full line-up. Connect with DRE and your peers on our social networks for exclusive deals and industry updates.
About DRE
Since 1984, DRE has worked to be a single supplier for all major operating room equipment and surgical equipment. For the two straight years, Inc. magazine has named DRE, Inc., a premier surgical and medical equipment supplier, to its annual Inc. 5000 list of the nation's fastest-growing private companies.