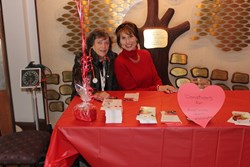 Hudson County, NJ (PRWEB) February 11, 2014
On Friday, February 7, 2014, CarePoint Health showed its support for the American Heart Association's Go Red for Women Day by providing complimentary blood pressure screenings at Christ Hospital, Bayonne Medical Center and Hoboken University Medical Center. According to the American Heart Association, heart disease is the number 1 killer of women and an estimated 43 million women in the U.S. are affected by heart disease. In addition to screenings, red lapel pins and educational brochures provided by the American Heart Association were distributed.
About CarePoint Health:
CarePoint Health is bringing quality, patient-focused healthcare to Hudson County. Combining the resources of three area hospitals — Bayonne Medical Center, Christ Hospital in Jersey City, and Hoboken University Medical Center — CarePoint Health is a new approach to delivering healthcare that puts the patient front and center. With a focus on preventive medicine, disease management and healthcare education, CarePoint Health provides patients with 360 degrees of coordinated care, delivered by the area's best and most dedicated doctors, nurses, hospitals and medical staff.
For additional information, please call the public relations department at 201-858-5481 or visit http://www.carepointhealth.org/events/.