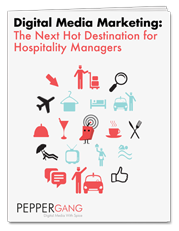 Now is the time for hospitality marketers to use digital marketing to reach their business goals. Our guide shows how to get started.
Boston, MA (PRWEB) February 12, 2014
Boston digital marketing agency, Pepper Gang, has released an extensive guide for hospitality managers on creating an effective digital marketing strategy. The team has released the first edition of the guide for download through their website.
The guide, Digital Media Marketing: The Next Hot Destination for Hospitality Managers, is designed to teach owners and marketing managers for restaurants, hotels, resorts, spas, and other hospitality businesses about digital marketing: what it is, why it's important, and how to do it well.
Readers will learn about:

Social media (Facebook, Twitter, Instagram, Pinterest, Google+, etc.)
Video marketing
Search engine optimization (SEO)
Reputation management
Loyalty programs
Mobile marketing
"We designed this guide to take the hospitality manager through a simple, easy-to-follow process in setting up smart, effective, digital marketing campaigns," said Stefanie Daneau, co-founder of Pepper Gang. "We see the unique challenges that the hospitality industry faces; and in that, we see the perfect opportunity to use digital media to reach business goals. This guide will help hospitality managers know what they need to do, and how to get started."
From the guide:
"68% of people begin researching online before they decide where or how to travel."
"The old way of doing things no longer apply, and the hospitality industry needs to adapt. We've entered an age with a shorter, faster decision-making cycle. Travelers have all the information they need to research their next visit, right in their hands."
"This shortened buying cycle puts a huge premium on brand recognition. When consumers realize a need, you want to be sure their very next thought is of you. The way to do that is through digital marketing."
To download the guide, visit the digital marketing resource center at the Pepper Gang website.
About Pepper Gang:
Pepper Gang is a Boston digital marketing agency that specializes in the hospitality industry. The intrepid team of digital-savvy marketers takes on the goals of a business as if they were part of the team. With a finger on the pulse of trends in digital marketing, Pepper Gang helps businesses of any size reach their full potential.