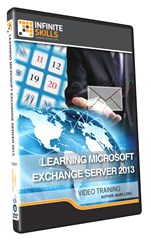 Learn Microsoft Exchange Server 2013 at your own speed.
(PRWEB) February 11, 2014
Software training firm Infinite Skills Inc. this week introduced its "Learning Microsoft Exchange 2013 Tutorial," an introductory course explaining basic setup and administration protocols for Exchange Server, and how to use the program to manage and synchronize email, calendars, contacts, and other business data.
Microsoft Exchange Server 2013 is a server-based communications manager designed for businesses, allowing users to synchronize calendars, mail, contacts, and other documents across multiple computers and devices.
Infinite Skills' Learning Microsoft Exchange Server 2013 provides a broad overview of Exchange Server, explaining its basic purpose as a business solution, how it works, and how users can implement this powerful software to simplify information exchange in a business environment.
Learning Microsoft Exchange Server 2013 Tutorial - Streaming Video
Course author Mark Long is a trainer, consultant, and technical writer specializing in information technology. He has worked in IT for more than 30 years, with 18 years at BellSouth, where he worked as a trainer, developer, network architect and administrator, and data security specialist. He has also worked for large companies and organizations including he US Air Force, Rockwell International, and Mercedes-Benz, among others.
Long begins by explaining the basics of Exchange Server, what its critical functions are, how it works, what technologies are employed, and how Server interacts with internet protocols.
Long explains the core technology of Exchange Server, its interaction with Active Directory, which allows Server to organize users and security permissions, and provides a basic organizational structure.
From there, Long explains how to administer an Exchange Server, explaining the admin center, the management shell, and providing a look at how Server works with data.
Next, Long dives into the primary functionality of Exchange Server, looking at mail enabled objects, how to work with mailboxes, distribution groups, shared mailboxes, mail security groups, and more.
Other features include managing Exchange Server address lists, how to place and create public folders, how to configure client-side server access, and finally, how to backup Exchange Server 2013.
"Microsoft Exchange Server is a vast universe. There is a lot going on," Long says. "So we will take it step by step, and I'll point you toward outside reading to show you areas where you can dig deeper into specific functionality."
"The purpose here is to get a solid foundation in how Exchange works and what it does through simple, easy-to-understand examples. You'll learn how to administer Exchange Server and how to really make it do its magic."
Free demo videos and a full list of course contents can be found on the Learning Microsoft Exchange Server 2013 training page of the Infinite Skills website:
http://www.infiniteskills.com/training/learning-microsoft-exchange-server-2013.html
Infinite Skills offers its Learning Microsoft Exchange 2013 Tutorial either as a DVD or a direct download from the company website at a retail price of $99.95. All titles and formats are compatible with Mac and Windows operating systems. Shipping is available around the globe. Additionally, Infinite Skills tutorials are supported by project files which correspond to examples in the videos, allowing users to work alongside experienced instructors right on their computer or iPad.
About Infinite Skills Inc.
A leader in the field of software training, Infinite Skills designs its courses on a task-oriented model, teaching complex skills by providing hands-on examples and guiding users as they carry out essential functions. Infinite Skills offers a wide range of software titles available as DVDs, digital downloads, and in iPad editions. Infinite Skills now offers a subscription service, providing access to all its training content for a monthly fee, keeping with company's aim of delivering professional training to customers anywhere they want to learn.