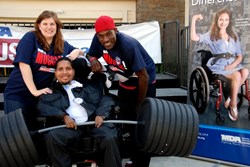 Tucson, AZ (PRWEB) February 11, 2014
Take a small step to make a big difference for the Muscular Dystrophy Association during the 2014 Muscle Walk season that will pay tribute to — and raise funds for — children and adults served by MDA.
MDA Muscle Walk is comprised of a series of non-competitive local walks held across the country. Now in its third year, it is the largest event circuit of its kind in the United States, with approximately 150 walks throughout the nation scheduled from February through May.
Muscle Walk is one of MDA's signature programs for families and communities to support its global research program for muscular dystrophy and related diseases, including ALS (also known as Lou Gehrig's disease). Muscle Walk also helps send children to a weeklong, barrier-free MDA summer camp at nearly 80 locations throughout the United States, and supports comprehensive health care services at 200 MDA clinics, including 44 MDA/ALS centers nationwide.
"MDA Muscle Walk events are sure to delight as we celebrate the funds raised and the advancements made by those donations," said MDA Executive Vice President and Chief Executive Officer of Income Development Ann McNamara. "Getting involved is easy by visiting walk.mda.org to find the walk closest to you and form a team or walk on as an individual. There is no registration fee to participate, and the limited edition 2014 MDA Muscle Walk T-shirt is yours when you collect $100 in lifesaving donations."
Last year, more than 50,000 people participated in MDA Muscle Walks across the country that raised a record-breaking $7 million. More than $23 million has been raised since the Walk's inception in 2011.
The MDA Muscle Walk program is supported by four national partners who not only help underwrite the nationwide program, but engage with participants throughout the year to help MDA families.
BodyBuilding.com: Bodybuilding.com will return for a second year as an MDA Muscle Walk Presenting Partner. Bodybuilding.com is the world's largest online sports nutrition store, based in Meridian, Idaho. Offering more than 11,500 health and fitness supplements and accessories, shipping to more than 155 countries. Bodybuilding.com helps over 26 million people every month achieve their health, fitness and appearance goals, by offering over 35,000 pages of free information, including more than 25,000 articles and 10,000 videos, expert online trainers and new content added daily. For more information please visit bodybuilding.com.
Pride Mobility Products® Corporation: Pride Mobility, and its Quantum Rehab division, is also a returning MDA Muscle Walk Presenting Partner. Pride Mobility and Quantum Rehab combined are the premier global leader in the design and manufacturing of high-performance, aesthetically-pleasing, user-focused complex rehab products, including power chairs and power positioning seating systems to meet the widest range of needs.
Numotion: With a strong local focus, Numotion aims to be the most responsive and innovative complex wheelchair company to do business with. As a loyal and helpful partner for its customers, they aim to move lives forward for years to come. It's a "nu" day in mobility. Numotion was a Power Partner in 2013 and will return this year as an MDA Muscle Walk Strength Partner.
Eli Lilly and Company: Eli Lilly and Company joins the MDA family this year as a 2014 Muscle Walk Power Partner. A leading innovation-driven company, Lilly is developing a growing portfolio of pharmaceutical products by applying the latest research from its own worldwide laboratories and from collaborations with eminent scientific organizations. Headquartered in Indianapolis, Ind., Lilly provides answers ― through medicines and information ― for some of the world's most urgent medical needs. Information about Lilly is available at lilly.com.
For up-to-date information about MDA Muscle Walk, follow us on Facebook (facebook.com/musclewalk). To sign up for, or donate to, an MDA Muscle Walk in your area, visit walk.mda.org.
About MDA
The Muscular Dystrophy Association is the world's leading nonprofit health agency dedicated to finding treatments and cures for muscular dystrophy, amyotrophic lateral sclerosis (ALS) and other neuromuscular diseases. It does so by funding worldwide research; by providing comprehensive health care services and support to MDA families nationwide; and by rallying communities to fight back through advocacy, fundraising and local engagement. Visit mda.org and follow us at facebook.com/MDAnational and @MDAnews.
– MDA –