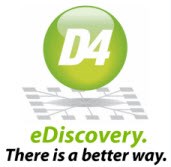 We expect Viewpoint to provide significant efficiencies and cost-savings for our clients and help them navigate through the discovery process with more ease.
Houston, TX and Rochestor, NY (PRWEB) February 12, 2014
Lateral Data, a Xerox company, today announced that D4 now offers the all-in-one Viewpoint eDiscovery platform as a part of its electronic discovery services. Headquartered in Rochester, N.Y., with twelve other offices across the U.S., D4 is a national provider of eDiscovery, litigation support, digital forensics and deposition services to law firms and corporations.
D4 will host Viewpoint in its owned and operated Tier 3, SSAE 16 SOC 2 compliant, state-of-the-art data processing and hosting center. D4 will provide Viewpoint access to its clients, administration, training, project management and support for clients' use of Viewpoint to manage their eDiscovery projects.
Viewpoint integrates collection, pre-processing and processing, early case assessment, analytics, including technology-assisted review, review and production capabilities in a single product. By using one product instead of many to manage eDiscovery projects, case teams can make the eDiscovery process more efficiently, reduce costs and eliminate the risks of moving sensitive data between tools. Unlike other eDiscovery software, Viewpoint does not require third-party software or plug-ins for analytics or other capabilities. All functionality is fully integrated into the platform, enabling greater workflow efficiencies.
"After a comprehensive evaluation, we selected Viewpoint for its fully integrated functionality, including advanced analytics and assisted review," said John Holland, CEO of D4. "We expect Viewpoint to provide significant efficiencies and cost-savings for our clients and help them navigate through the discovery process with more ease."
Viewpoint's integrated analytical capabilities include:

Near-duplicate review with side-by-side difference viewer – eliminates redundant data to accelerate review speed and productivity by automatically grouping similar documents together;
Email redundancy and thread management – identifies and groups messages that are 100% contained in subsequent emails in the same thread to defensibly reduce data volumes;
Email relationship analysis – identifies the who, what and when of e-mail communications between custodians with graphic visualizations
Concept analysis – quickly identifies important topics and groupings of related documents across and between concepts;
Visual index – provides an in-depth view into search term results to meet a variety of review goals; and,
Assisted Review – cuts cost and time by automating review for document prioritization, QC enhancement or wholesale binary review.
"We are thrilled that D4 has added the Viewpoint eDiscovery platform to its solution offerings," said Matt Berry, founder and president of Lateral Data. "We look forward to helping them continue to deliver exceptional eDiscovery services to their clients."
About D4
D4 is a national provider of electronic discovery, computer forensics, litigation support and deposition services to law firms and corporations. D4 has been instrumental in helping customers realize up to a 70 percent cost reduction over previous eDiscovery solutions. Founded in 1997 in Upstate New York, D4 has grown to a national presence. With over 160 employees, D4 has offices in Buffalo, Chicago, Detroit, Grand Rapids, Lincoln, New York City, Omaha, Orlando, Phoenix, Rochester, San Francisco, San Diego and Tampa. D4's centralized operations in Rochester are complemented by electronic discovery, litigation support and paper scanning services throughout our other offices across the country. D4 has been recognized by Inc. Magazine as one of the fastest-growing private companies in the US and is an INC 500/5000 honoree. Visit http://www.d4discovery.com for more information.
About Lateral Data, A Xerox Company
Lateral Data's Viewpoint™ eDiscovery software is an all-inclusive platform that integrates collection, early case assessment, pre-processing and processing, analysis, review and production functionality into a single, powerful platform. Lateral Data's client base consists of global eDiscovery service providers, consulting firms, corporations and law firms that have chosen Viewpoint to manage eDiscovery with one tool from end-to-end. Houston-based Lateral Data was founded in 2003 and acquired by Xerox Corporation in 2012. To learn more, visit http://www.lateraldata.com.
Media Contacts:
Martha MacPherson, D4, 585-512-3758, mmacpherson(at)d4discovery(dot)com
Kevin Lightfoot, Xerox Corporation, 214-841-8191, kevin.lightfoot(at)xerox(dot)com
Erika Freed, newsPRos for Xerox, +1-917-969-0787, erika(at)newspros(dot)com