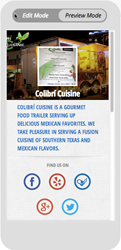 SXSW attendees will be using their smartphones to decide what and where they will eat. Restaurants must have a mobile site.
Austin, TX (PRWEB) February 19, 2014
Local Austin company, Scanther.com, is providing free mobile websites to SXSW food trailers. Out of 40+ documented food trailers in Austin, none had a mobile site. Only 19 had a standard website, with only 4 being responsive. With so many food trailer choices at SXSW, attendees will rely on their smartphones to make their dining decisions.
Scanther.com, a SXSW Interactive exhibitor, makes it simple for any local restaurant/food trailer to create a mobile site in under one minute. Simply enter the business name and it creates a unique one-page mobile website. It comes complete with images, video, description, social links, directions, hours of operation, surveys and much more. The social links can dramatically increase likes and positive feedback.
Businesses like Colibri Cuisine and Foreign & Domestic currently have no website but are active on social media. As a result, entering their name in Scanther.com creates an excellent mobile website with no additional effort or editing. It can also serve as their primary site. Others like Ice Cream Social and G'Raj Mahal have websites but they are non-responsive which makes it difficult to navigate. These, too, are complete in under a minute at Scanther.com.
"We have a real opportunity to help local businesses," said EJ Archuleta, Scanther co-founder. "We've made it so easy and affordable at $7.50 a month to create a mobile website that there is no reason for business owners to put it off." Scanther utilizes proprietary technology to build mobile websites by gathering online digital assets about the business. Businesses with little or no digital assets may need to edit their mobile site, but that has been simplified considerably by the intuitive site layout and 1-click editing.
In addition to the free mobile websites, Scanther is providing their unique Smart Signs to make it easier for SXSW guests to visit the mobile site. Guest can tap the sign, scan the QR code or text a unique code to be directed to the mobile site. Smart Signs eliminate the frustrating process for guests typing in a url or a long facebook link.
Brick and mortar restaurants will also be offered the Scanther one-page mobile website and Smart Signs during SXSW. "Eating is a big part of the SXSW experience," said EJ, "and everyone will be using their smartphones to decide what and where they will eat. This is a win-win for guests and local eateries." Food trailer owners and restaurant managers are being contacted to make the arrangements.
ABOUT SCANTHER
Scanther is an Austin, Texas based company with three co-founders. Scanther is self-funded and has just exited its BETA phase. There are currently two products, a mobile website that is automatically built in under a minute with just the company name, and Smart Signs that utilize NFC (near field communication), QR codes and text to direct in-store guests to the mobile site or any website chosen by the owner.
Media Contact:
Kylon Gustin
512-736-3437