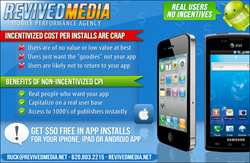 Kansas City, Missouri (PRWEB) February 14, 2014
Revived Media, the leader in Performance-based Global Mobile User Acquisition for Mobile Advertisers, Mobile App Developers, Mobile Content Owners and more, announced today, a major milestone in mobile advertising.
Revived Media Chief Executive Officer, Ralph Ruckman, stated, "Since the launch of Revived Media's internal mobile applications advertising division, app developers, specifically mobile games developers, have been flocking to take advantage of mobile cost per install advertising. Revived Media generated record revenues month over month in 2013. Since the launch of the internal media buying division which helps mobile app developers acquire millions of new users monthly, we have been able to strategically position Revived Media at the fore front of not just mobile cost per action advertising, but now in mobile cost per installs too."
Ralph went on to say "There's no shortage of app promotion agencies and ad networks throughout the world, but 9 out of 10 of them lack the necessary knowledge, strategies and technologies to effectively improve the mobile user acquisition for the majority of App Developers. Out of the Google Play store, the top 50 App Developers generate over 80 percent of the revenue. With the recent success of Floppy Birds, the highly addictive games app that rocketed to the top the Google Play store, we have been working much closer with Game Developers to take over and acquire the top spots in the Appstore, Google Play, Amazon and others."
The growth of Revived Media Mobile Apps cost per install solutions are attributed to:
Proprietary Ad Targeting Technology - Such as the ability to target by Carriers, Country, Operating System, Devices and more. Revived Media has over 50 key performance indicators available to App owners to track, analyze and monitor their mobile users.
Full Campaign Control - Including daily and monthly budgets, flexible cost per install pricing and transparent tracking analytics.
Personalized User Acquisition Management - Revived Media provides and all-in-one mobile user acquisition hub and a campaign manager who is there 24 hours a day to ensure app developers and game owners are getting their maximum return on investment with their respective ad budgets.
Brent Dunn, President of Network Distribution at Revived Media, was available for comment and stated that, "By the end of Spring, Revived Media will be driving over 100 million mobile game installs per month. As more and more game owners and app developers moving towards purchasing user bases as part of their mobile app marketing plan, smaller apps and developers will have to rely more on Social and Search methods of users finding their app."
CFO Ryan Gray said, "It's a real battle in the app stores across the globe. That's why cost per install advertising for app owners is so effective. While 95 percent of the app owners out there don't even understand how to get their apps into the hands of millions of users, it's becoming increasingly easier to offer customized mobile advertising plans per mobile app basis. Unlike most app promotion agencies, Revived Media sticks with the app and provides over 500 global publishers in over 100 countries to provide even more exposure to apps, outside of cost per install solutions."
About Revived Media:
Revived Media is a global, mobile user acquisition Agency which bridges the gap of Mobile Advertisers, App Developers and Media Buyers. Revived Media acts as both an agency and a performance based network for advertisers who wish to promote their mobile enabled website, App, or click to call and pay per call campaigns. Revived Media works with mobile publishers who own leading mobile destinations, popular App owners and other mobile ad networks to increase the revenue they earn and to monetize their mobile ad inventories on a performance basis. For more information, visit http://www.revivedmedia.net