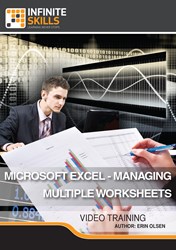 Learn Microsoft Excel - Managing Multiple Worksheets at your own speed.
(PRWEB) February 14, 2014
Software training firm Infinite Skills Inc. this week introduced its Microsoft Excel - Managing Multiple Worksheets, an advanced Excel course focusing on sourcing and manipulating data across multiple worksheets, eliminating the need for duplicate data, and improving overall Excel efficiency.
Excel is by far the world's most popular spreadsheet application, due in part to its virtually unlimited capabilities for customizing the way users interact with spreadsheet data. Learning to manage data across multiple sources can greatly improve a user's ability to leverage data and strengthen their worksheets, all while minimizing effort and ensuring accuracy.
With Infinite Skills' Microsoft Excel - Managing Multiple Worksheets Tutorial, users with some Excel experience can expand on their Excel knowledge, learning the benefits of linking data from a single source across multiple sheets.
Microsoft Excel - Managing Multiple Worksheets Video Tutorial - Streaming
Course author and Microsoft Certified Instructor Erin Olsen, began working with Excel and SharePoint while running her own small business. She holds a master's degree in education with emphasis on instructional design and technology and has been a computer trainer since 1994, starting with Windows 3.1. Her training style is based on real-world experience as an entrepreneur, orienting her instruction toward the practical needs of everyday users in a business environment.
Following an introduction to using multiple worksheets, exploring how sourcing can improve your overall skill with Excel, Olsen prepares students for working with dispersed data, explaining the basics of worksheet functionality, using names to simplify references, and how to group worksheets.
From there, the course explores formatting across multiple worksheets, creating and applying styles, applying conditional formatting, and using formatting macros, all tools which ensure consistency and flexibility in data usage.
Other chapters cover performing calculations on dispersed data, leveraging data from external data sources, and finally consolidating data, creating relationships, refreshing linked data, editing links, managing connections, and working with Excel views.
"Often when people say they use Excel, they mean they can edit data on a single worksheet," Olsen says. "But the power to consolidate and link data between multiple sheets can really open a whole new world as far as efficiency and data consistency."
"The skill set for working across multiple sheets is, however, a bit different. So in this course, the goal is to give you the ability to leverage existing data, regardless of where it is located, to strengthen worksheets while minimizing effort and increasing accuracy."
Free demo videos and a full list of course contents can be found on the Microsoft Excel - Managing Multiple Worksheets training page of the Infinite Skills website:
http://www.infiniteskills.com/training/microsoft-excel-managing-multiple-worksheets.html
Infinite Skills offers its Microsoft Excel - Managing Multiple Worksheets as direct download from the company website at a retail price of $24.95. All titles and formats are compatible with Mac and Windows operating systems. Shipping is available around the globe. Additionally, Infinite Skills tutorials are supported by project files which correspond to examples in the videos, allowing users to work alongside experienced instructors right on their computer or iPad.
About Infinite Skills Inc.
A leader in the field of software training, Infinite Skills designs its courses on a task-oriented model, teaching complex skills by providing hands-on examples and guiding users as they carry out essential functions. Infinite Skills offers a wide range of software titles available as DVDs, digital downloads, and in iPad editions. Infinite Skills now offers a subscription service, providing access to all its training content for a monthly fee, keeping with company's aim of delivering professional training to customers anywhere they want to learn.