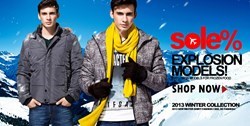 (PRWEB) February 15, 2014
Skmen.com, the world's leading clothing manufacturer and retailer, has recently introduced its new designs of cotton cardigan sweaters for men. At the moment, the company is launching a site-wide promotion of these comfortable items. They are offered at greatly discounted prices, up to 35% off.
About The Company's Statement
According to the CEO of the company, the new cotton cardigan sweaters provided by Skmen.com among the best clothes in the current market. They are well designed and carefully made by the company's experienced workers. The fresh assortment comes in varied sizes and colors.
He says, "We are excited to announce our fresh sweaters for worldwide clients. We want to make our online store a one-stop place for chic gentlemen. In our organized product category, customers can find what they want efficiently. That can bring a lot of convenience for customers from around the world."
About The Hottest Designs
There are many popular items in the company's cardigan sweater selection. Some of the hottest products are: 3-Ruler Men's Casual Deep-V Solid Button Front Slim Fit Cardigan, 3-Ruler Men's Black Solid Color High Neck Bottoming Shirt Thin Cardigan and 3-Ruler Men's Chic Dark Navy Blue One Button Turndown Collar Sweater.
The details of the 3-Ruler Men's Casual Deep-V Solid Button Front Slim Fit Cardigan is as follows:
Occasions: Casual
Color: Red
Fabric: Blended Cotton
Season: Spring, Fall, Winter
Wash Notes: Wash by hand in 30 degree Celsius water, hang to dry, avoid bleaching.
Size: M,L,XL,XXL
About Skmen.com
Skmen.com, a China-based company founded in 2009, is one of the leading suppliers of men's and women's high quality clothes. It has more than 5000 customers from every part of the world; it hopes to help worldwide stylish ladies and gentlemen. For more detailed information about the company and its wonderful items, readers can visit http://www.skmen.com/product-cardigans-sweaters-009004.aspx.