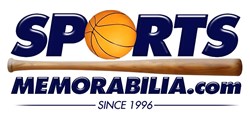 We hope to keep the fond memories of Derek Jeter's Hall of Fame Career alive with our Derek Jeter Retirement Collection.
Fort Lauderdale, Florida (PRWEB) February 13, 2014
SportsMemorabilia.com, the Web's leading retailer of authentic autographed memorabilia, is preparing for the retirement of Derek Jeter in an effort to offer fans the prime destination for collectibles signed by the New York Yankees legend. The longest-tenured captain in Yankees team history recently announced his retirement following the 2014 season, and SportsMemorabilia.com hopes to preserve the shortstop's legacy by offering fans unique Derek Jeter collectibles.
At the age of 39, Derek Jeter publicized his retirement plans and thoroughly thanked his fans, as well as the baseball community, for their contributions to his nineteen-season career with the New York Yankees. As the five-time World Series champion looks to lead New York to one last title, SportsMemorabilia.com is gearing up to offer baseball fans the best in "Captain Clutch" memorabilia. The online collectibles retailer boasts a large selection of products that honor the Yankees' shortstop; including Derek Jeter autographed baseballs, signed jerseys and a complete line of commemorative plaques and collages. In addition to standard Derek Jeter signed collectibles, SportsMemorabilia.com's product listing features items that celebrates almost every career milestone reached by The Captain. From autographed DJ3k bats in remembrance of his 3,000th career hit in 2011 to signed World Series Championship photos including the 2000 series in which he was named World Series MVP to game-used cleats worn by Jeter on his journey to the 2009 World Series Championship, Derek Jeter's long list of achievements will be remembered for years to come on SportsMemorabilia.com. With a current career batting average of .312, 3,316 career hits, and 256 career home runs, Derek Jeter will go down in baseball history and is an expected member of the Baseball Hall of Fame. "It's sad to see the career of such an icon come to an end," said Stefan Tesoriero, EVP at SportsMemorabilia.com, "But we hope to keep the fond memories of Derek Jeter's Hall of Fame Career alive with our Derek Jeter Retirement Collection."
Fans and collectors alike should check-in regularly for updates to the Derek Jeter Retirement Memorabilia product line throughout the baseball season. Memorialize Mr. November and his many postseason records by shopping the extensive selection of commemorative Derek Jeter memorabilia at – http://www.sportsmemorabilia.com/sports-memorabilia/derek-jeter-retirement-memorabilia/.