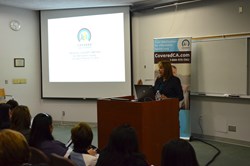 Loma Linda, CA (PRWEB) February 13, 2014
Representatives of community groups working to enroll more San Bernardino County residents for affordable health insurance through Covered California kicked off their first regional meeting on Wednesday (Feb. 12) at Loma Linda University Health (LLUH).
About 40 people, representing dozens of community groups, stakeholders, health organizations, elected officials, and local health officials, took part in the gathering, hosted by LLUH.
"One of the objectives of the regional meeting is to focus on increasing partnerships and collaboration within the region, and to share lessons learned from the first weeks of enrollment," said Edith Lara-Trad, information officer at Covered California, and the regional coordinator for the effort.
"It is about the people who are in dire need of health coverage. We have 47 days to continue mobilizing our efforts and enroll them now. One focus is to use in-person assistance to maximize enrollment," she said.
LLUH, in partnership with Community Clinic Association of San Bernardino County, is one of 48 lead organizations that received grant awards totaling $37 million from Covered California to help residents access affordable health coverage. Covered California is the state's new health care insurance marketplace responsible for reaching out to 5.3 million Californians in need of individual insurance, many of whom may be eligible for financial assistance with the premiums.
"LLUH wants to ensure the residents of the Inland Empire are informed regarding the historic changes in our health care system and we are getting our residents the coverage they need to improve and maintain their health," said Gerald Winslow, Ph.D., vice president for mission and culture at LLUH, and director of the Institute for Health Policy and Leadership, the organizational entity responsible for administering the grant.
The regional meeting provided opportunities for grantees, certified counselors, providers, community and health agencies, and elected officials to mingle and work in partnerships in existing enrollment events. Covered California partners and the health community have played an integral role to accomplish enrollment to many people thus far and Covered California is providing specific support to the community and partners to drive the regional effort.
Lara-Trad said the challenge is to encourage more people to enroll by March 31, which is the deadline for open enrollment and for obtaining premium assistance and guaranteed health coverage. She said, "We are focusing on key gaps. Latinos, African Americans, and other under-represented communities and young adults are especially targeted for enrollment." More information is available at http://www.CoveredCA.com.
Rosie Salazar, Covered California certified counselor at Inland Behavioral Health Services, attended the event because she wanted to expand her network and get ideas for getting more people to sign up for health insurance.
"We are in a community where we deal with many homeless and low-income people," she said. "We do not want them to be left out of affordable health care."
Photo Caption: Edith Lara-Trad, information officer at Covered California, welcomes representatives from Inland community groups to the first Covered California regional meeting at Loma Linda University Health.
###
About Loma Linda University Health (LLUH)
Loma Linda University Health includes Loma Linda University's eight professional schools, Loma Linda University Medical Center's six hospitals and more than 900 faculty physicians located in the Inland Empire of Southern California. Established in 1905, LLUH is a global leader in education, research and clinical care. It offers over 100 academic programs and provides quality health care to 40,000 inpatients and 1.5 million outpatients each year. A Seventh-day Adventist organization, LLUH is a faith-based health system with a mission "to continue the teaching and healing ministry of Jesus Christ."
About Covered California
Covered California is the state's marketplace for the federal Patient Protection and Affordable Care Act. Covered California, in partnership with the California Department of Health Care Services, was charged with creating a new health insurance marketplace in which individuals and small businesses can get access to affordable health insurance plans. With coverage starting in 2014, Covered California helps individuals determine whether they are eligible for premium assistance that is available on a sliding-scale basis to reduce insurance costs or whether they are eligible for low-cost or no-cost Medi-Cal. Consumers can then compare health insurance plans and choose the plan that works best for their health needs and budget. Small businesses can purchase competitively priced health insurance plans and offer their employees the ability to choose from an array of plans and may qualify for federal tax credits. Covered California is an independent part of the state government whose job is to make the new market work for California's consumers. It is overseen by a five-member board appointed by the Governor and the Legislature. For more information on Covered California, please visit http://www.CoveredCA.com.