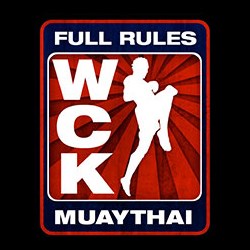 "Everybody's somebody, everybody's good, you really have to bring you're "A" game. Every time."
Tustin, CA (PRWEB) February 15, 2014
Bryce "The Body Snatcher" Krause is a highly admired coach and trainer at Total MMA Studios in Tustin, Calif. After a big win in December, Bryce heads back into competition this Saturday, February 15th, 2014. He is fighting in Dennis Warner, In Sync Productions, Inc., & Pechanga Resort and Casino's World Championship Muay Thai: Matter of Pride fight located at Pechanga Resort and Casino in Temecula, Calif.
How did this Muay Thai powerhouse begin such an incredible career? Bryce attributed it to his generation; "I grew up on the Jean-Claude Van Damme movies and Karate Kid so that was always something that looked interesting and fun to do. I saw a kickboxing sign and started training."
Krause has been fighting since the early 1990s, and professional fighting since 2004. His record (27-4-1) is nothing short of impressive with 13 total knockouts. He has been with Total MMA Studios since its inception pre-2003, where he works as the head Muay Thai trainer and coach. When asked how coaching has helped him in his professional career Krause stated: "Well, it keeps it fresh because I'm always going back to the basics and the basics is where the foundation of Muay Thai is." That must be the trick, because after a huge win on December 12, 2013 and receiving the WBC Muay Thai Super Welterweight National Title, he's back in the ring. Only four days after his huge victory, he received a phone call asking him to take the fight and with adrenaline still pumping he gladly agreed.
After discussing the upcoming fight with Krause, he seems hopeful and excited. When asked how he thinks he compares to his competition he humbly replied: "Everybody's somebody, everybody's good, you really have to bring you're "A" game. Every time." This is his first time fighting acclaimed Muay Thai fighter from Michigan, Landon Simmons, and reports that he's mentally in physically in fantastic shape coming off a good roll as of late and is optimistic about his chances. He attributes all of his greatest successes to his ultimate strengths: his unparalleled conditioning and will to win.
Jiu-Jitsu Professor and co-owner of Total MMA studios Juliano Prado commented how lucky they are to have Krause as a teacher: "We are blessed to have such a high level professional fighter like Bryce as our head striking coach here in Tustin. He excels as a coach and teacher with the same passion and dedication he does his in fights. You look for Bryce when you're serious about Muay Thai."
When asked about the future Krause says that he has nothing set in stone yet, but his promotions keep him active throughout the year. Until then, see Bryce in action this Saturday at 7:00 pm at Pechanga Resort and Casino. Ticket prices range from 40$ or 100$. For more information call: (877) 466-7962 or find ticket information on Pechanga.com.