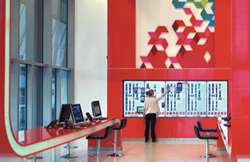 ...the work of the recipients of this award represents the best of the best...
Charlotte, NC (PRWEB) February 14, 2014
T1Visions is proud to announce that it was recognized for its collaboration with Digicel Group in the Retail category for 2014 with a DSE Bronze Apex Award presented at Digital Signage Expo's opening-night banquet at the Sands Expo & Convention Center.
Digicel Group Head of Retail, Paul Bee, said, "We are proud to accept this award for our state-of-the-art experience store in Kingston, Jamaica. The store comprises 69 digital and interactive screens and enables our staff to deliver a world-class, innovative and extraordinary retail experience to our customers."
Digicel worked with T1Visions to create a 4' x 11' interactive inTouch Wall and inTouch Retail Table for its experience store in Kingston, Jamaica. The Wall features five 55" screens mounted behind a touch overlay, and is outfitted with multiuser, multitouch custom software that allows customers to check prices for phones, compare models, view and manipulate 3D images of handsets, and find a data plan that meets their specific needs.
Since installation of the inTouch Wall and Table, Digicel has experienced several positive results that have improved customer experiences and Digicel's bottom line. Customer wait times have decreased by over three minutes per user on the touchscreen, while data plan and service product purchases have increased by 3%. Digicel has been able to reduce inventory due to stocking models chosen on the touchscreens, and customer engagement has gotten a boost: over 18 hours of Wall and Table usage are logged per day.
"The Apex Awards were created to foster innovation and recognize excellence in the interactive and digital signage industry. The work of the recipients of this award represents the best of the best," said Richard Lebovitz, editorial director for Digital Signage Expo. "Recognition of this project, and the collaboration behind it, should be particularly satisfying to the recipients because it is the product of a shared vision and a great working relationship."
To learn more about T1Visions' collaboration with Digicel Group and its lineup of interactive inTouch products, visit http://www.t1visions.com.
About T1Visions
T1Visions creates interactive technology that brings people together. Deliberately large in size and incredibly durable, our inTouch™ Tables, Walls, and Digital Signage transform public spaces into more dynamic environments for groups of people looking to learn, share, and communicate both individually and collectively. Our team is made up of design, engineering, business and technology minds alike - resulting in unrivaled support to our customers from start to finish.
Based in Charlotte, NC, T1Visions works with retail, events and exhibits, enterprise, hospitality, and education markets around the globe. Visit http://www.t1visions.com to learn more about our products and how we can work with you and your industry.
About Digicel Group
Digicel Group Limited is a leading global communications provider with operations in 31 markets in the Caribbean, Central America and Asia Pacific. After almost 13 years of operation, total investment to date stands at over US$4.5 billion worldwide. The company is renowned for delivering best value, best service and best network.
Visit http://www.digicelgroup.com for more information.
About the Independent Panel of Apex Award Judges
DSE's Apex Awards were individually assessed and juried on the basis of originality and innovation by three independent panels, each with three industry journalists, all of whom have long reported on the digital signage sector, have published on the many facets of the industry, and are recognized as versant in current industry trends. Judges included:

Chris Brennaman, Digital Media Editor, Digital Signage Expo
Mike Cearley, Senior Vice President & Partner, Global Social Strategy & Consumer Engagement, Fleishman-Hillard; Author & Publisher, 11th Screen
Leslie Gallery-Dilworth, FAIA
Tom LeBlanc, Editor-in-Chief, Commercial Integrator
Richard Lebovitz, Editorial Director, Digital Signage Expo
David A. Silverman, Editor, Sound & Communications
Susan Szenasy, Editor-in-Chief, Metropolis Magazine
Lionel Tepper, Managing Editor, ScreenMedia Daily
Jeff Wooten, Editor, Sign Builder Illustrated
About Digital Signage Expo
Digital Signage Expo 2015 will be held at the Las Vegas Convention Center, Las Vegas, NV, March 10-12, 2015. 2015 Apex entry forms will be available online this March and submissions are due by October 1, 2014. DSE is the world's largest and longest running conference and trade show exclusively dedicated to the digital signage, interactive technology and digital-out-of-home (DOOH) industries. Launched in 2004, DSE was the first event dedicated to the digital signage market and has been a significant contributor to the growth of this fast-paced industry. Professional end user attendance represents decision-makers from key industry categories such as retail, restaurant, healthcare, education, hospitality and transportation, as well as other key stakeholders, including advertising executives, brand marketers and systems integrators.
Over 200 exhibitors feature technology and services including hardware, software, network, delivery and content from around the globe. DSE also offers the largest and most diversified digital signage and digital out-of-home educational program anywhere in the world, with more than 125 educators and the largest variety of educational opportunities, including a live installation tour and structured curriculum leading to professional re-certification in seven educational tracks. The 2015 program will be comprised of pre- and post-show educational events, general conference seminars, as well as targeted Industry Roundtable Discussion Groups and free presentations staged in on-floor theaters.