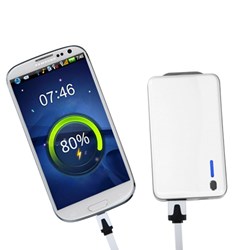 Buy a case and have a chance to win.
Walnut, CA (PRWEB) February 14, 2014
Announcing February Contest
Everyone loves a contest which is why everyone really loves an AccessoryTree Contest. As an online retailer of cellphone accessories we have something for every phone and when we do a contest you know you are going to be getting some amazing phone accessories.
For our February AccessoryTree Contest we are featuring the White Li-Ion External Battery (4400 mAh). Lithium ion batteries are known for being energy efficient and long lasting batteries and with this external battery you are getting the best that Li-ion external batteries have to offer. You can check your battery's power levels with just a touch of a button and the lithium polymer cells are great for storing energy.
You can use our February Contest item to charge a number of different items. You can use it to charge Micro-USB devices and you can charge the external battery using a USB-device. The external battery is very easy to use and extremely efficient. Best of the entire package include an external battery, a cable that is the Micro-USB to USB cable and an easy to follow guide on how to properly use the external battery.
You can use this external battery on any kind of device that can be charged via USB and let's be honest there are so many devices that use USB that this external battery will most defiantly come in handy. You can also of course use it to charge your cell phones and MP3 players. Having an external battery such as the White Li-Ion External Battery (4400 mAh) that you can charge and carry with you is a fantastic way to make sure that all of your devices are charged when you need them to be. You never know when you may not have access to a plug in and the external battery is right there when you need it the most.
You may find that your smartphone is not holding a charge like it used to or that when you are using it frequently the battery goes out quicker. If that is the case you will want to get in on this February Contest from AccessoryTree. Having an external battery that will charge your phone and other devices ensures that no matter where you are you will have a battery that you can use to charge your devices. If you have been on your tablet all day during a trip and find that it needs to be charged you can use the external battery to charge it up until you reach your destination.