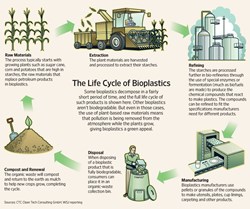 Bio-On, an Italian startup that produces plastics sourced from plant material, has been in business since 2007, but a recent announcement shows that they could be ready to take their earth-friendly materials to a much wider customer base
(PRWEB) February 14, 2014
Bio-On, an Italian startup that produces plastics sourced from plant material, has been in business since 2007, but a recent announcement shows that they could be ready to take their earth-friendly materials to a much wider customer base.
Automotive supply manufacturer Magna, a key supplier to BMW and several other brands, recently announced an exclusive partnership with Bio-On to determine how their bioplastics could be made an economically viable part of the manufacturing process.
Bio-on creates bioplastics using residue from the sugar production process, including materials from both sugar beets and sugar cane. Since sugar is something that is already widely produced across the world, these bioplastics could theoretically be mass produced without the need for massive changes to current agricultural processes or food chains.
"Our world's overreliance on petrochemicals is something that must be overcome, and soon," said entrepreneur Jason Hope. "I have always believed that technological innovators would play a key role in identifying a new and better way of doing things, and bioplastics could end up being the type of idea I was thinking about."
To learn more please visit: http://htpoint.com/featured-news/bioplastics-material-future/.