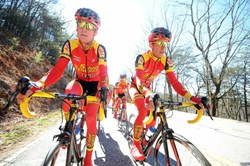 Brentwood, Tenn. (PRWEB) February 17, 2014
Swiftwick, a leading U.S. producer of athletic compression socks, is proud to be the official sock of the 2014 5-hour ENERGY presented by Kenda Racing Team. Last season the team chalked up more than 30 podium finishes after racing in three continents, North America, Asia and Europe.
"There is great synergy between our company and the 5-hour ENERGY cyclists," said Mark A. Cleveland, CEO and co-founder of Swiftwick. "They are one of the top cycling teams in the country and they demand high performance; so do we. It's important for the riders to have socks that provide function and comfort, without bunching, sagging or any hot spots. We're proud to produce socks that will help the team ride fast into another successful racing season."
The 5-hour ENERGY team will be wearing Swiftwick's custom VISION line of compression socks in fluorescent yellow during all races this season. This lightweight, fast-drying sock is manufactured with Olefin fibers which retain less weight in moisture and resist deterioration from perspiration. The end result is a softer, more comfortable sock.
"We are looking for high performance equipment from head to toe," said Frankie Andreu, director sportif, 5-hour ENERGY presented by Kenda Racing Team. "Swiftwick was a natural pick for the team. Swiftwick's products meet the riders' demands for cold weather, hot weather and personal style. Their premium construction means the socks will last well beyond one demanding season of racing."
The 5-hour ENERGY team will take their Swiftwick VISION socks on the road in upcoming races including the Vuelta Mexico race March 5-9, a 2.2-rated UCI America Tour stage race and the San Dimas Stage Race March 28-30 in California. Last year the team raced six UCI-sanctioned stage races and was the top Continental squad at three of these: Amgen Tour of California, Vuelta a Castilla y León and Tour of Alberta.
About Swiftwick
Founded in 2008, Swiftwick is headquartered in Brentwood, Tenn. The company is a performance sock manufacturer that proudly employs an American workforce in high-quality textile manufacturing. Swiftwick is an innovator in designing and producing superior socks. The company has a culture focused on manufacturing through environmentally friendly means, social responsibility and leading customer service. Learn more at http://www.swiftwick.com.
About On The Rivet Management
On The Rivet Management is based in Dahlonega, Ga. The company has more than 30 years of experience with brand management and sporting events. Corporate Partners for 2014 include 5-hour ENERGY®, KENDA Tires, and Devinci Bikes. New partners for 2014: Infinit nutrition, Pedro's tool, clean and lube, Rudy Project helmets, Suarez Clothing, Speedplay pedals, Swiftwick socks, Vitalyte, and Vittoria shoes. Returning partners for 2014: Arundel, Banjo Brothers, Biknd, Chamois Butt'r, Cushe, Fizik, Full Speed Ahead (FSA), GoPro, Jagwire, K-Edge, microSHIFT, SeaSucker, Smith Optics, Toyota and Vision Wheels All corporate partnership programs and marketing support are administered by On The Rivet Management. Team information is available on Facebook (5-hour-Energy-presented-by-Kenda-Racing-Team), Twitter (otrmgt) and Web (ontherivetmanagement.com).