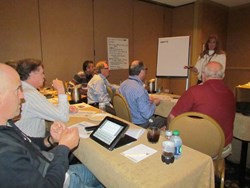 Chattanooga, TN (PRWEB) February 17, 2014
PlayCore, the leading company in play and recreation programs, research, and products recently announced their expansion to new conferences targeting the aquatic market and schools. With the addition of the Association of Aquatic Professionals (AOAP) meeting Feb 24-25 in Austin, TX, and the National Association of Independent Schools (NAIS) International Conference Feb 26-28 in Orlando, FL, the company will be bringing its best practice programming and continuing education modules to four conferences in the first quarter of 2014.
PlayCore's Center for Professional Development assists communities advance the quality of play and recreation spaces through the implementation of research, continuing education, best practice programming, community support, and advocacy. By committing considerable resources to independent studies and research, the company develops tools to optimize play and recreation from the planning stage to programming the space, in order to assure the highest quality environments that support health, engagement, and build community capital.
In addition to attending the aforementioned conferences, PlayCore will present education sessions at the US Play Coalition 2014 Conference on the Value of Play Feb 17-18, held at Clemson University, as well as the California Park & Recreation Society's (CPRS) Conference March 5-6 in Ontario CA.
For details on sessions, programming, products, or to learn more about the Center for Professional Development, log on to http://www.playcore.com/cpd, or e mail info(at)playcore(dot)com