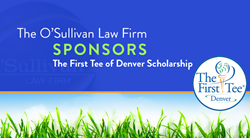 I have been looking for an opportunity to give back to the program that I love so much in a meaningful way.Scott O'Sullivan
Denver, Colorado (PRWEB) February 18, 2014
The O'Sullivan Law firm is proud to announce that it has partnered with The First Tee of Denver to fund a $10,000 college scholarship for a qualified First Tee of Denver participant. The recipient of the scholarship will be announced at 6:00 pm on February 20, 2014, at City Park Golf Course.
The First Tee of Denver scholarship is open for all qualified applicants who have participated in the program and/or have worked as a mentor for The First Tee of Denver. The scholarship applicants must also demonstrate many of The First Tee's core values like honesty, integrity, responsibility and respect.
Among their many accomplishments, scholarship finalists Brooke Barlock and Maggie Hartman have both represented The First Tee of Denver in leadership conferences in Florida and New York, respectively.
Brooke, a senior at Regis Jesuit High School, has worked for The First Tee of Denver for the last three summers teaching younger kids golf lessons and valuable life skills. Her resume includes an impressive list of high academic achievements, community service and extracurricular activities.
Maggie, a freshman at the University of Colorado at Colorado Springs, has been a participant in The First Tee of Denver for more than 12 years. She credits The First Tee of Denver and golf for her confidence, perseverance and goal setting. She serves as an ambassador for young participants interested in First Tee programs and has tutored and mentored hundreds of children.
Both finalists will be in attendance at the award presentation. "We couldn't be more proud of these girls," said Paula Purifoy, executive director for The First Tee of Denver.
"I have been looking for an opportunity to give back to the program that I love so much in a meaningful way," said Scott O'Sullivan, attorney at the O'Sullivan Law Firm and First Tee board president since 2008, who has also organized a surprise for the event. "I am proud to be a part of this important organization and honored to be able to assist in our participants' futures."
The mission of The First Tee of Denver is to educate and inspire youth academically, socially, and physically through the game of golf. While it is a major goal of The First Tee of Denver to introduce inner city and disadvantaged youth to practice and play opportunities in golf, they see a chance to use the unique challenges of the game to work with and through schools to assist in the academic development of the boys and girls in the program. Their vision is for every participant to carry a golf club in one hand and a degree in the other.
For additional information on The First Tee of Denver, call 720-865-3427. To apply for next year's First Tee of Denver Scholarship, please visit O'Sullivan Law Firm.