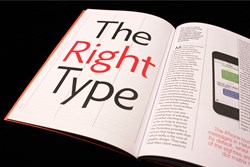 'The Brand Perfect Annual highlights the importance of design and innovative technology in branding, not just in relation to visual communication but all aspects of brand experience.' - Neil Ayres, editor of Brand Perfect
London, England (PRWEB) February 20, 2014
Brand Perfect, an initiative by Monotype, launches its first ever printed Brand Perfect™ Annual, created by Jeremy Leslie, one of the U.K.'s most respected authorities in design and head of his own studio, magCulture.
Published by Monotype, a leading provider of typefaces, technology and expertise for creative applications and consumer devices, the Brand Perfect Annual was designed by Leslie with assistance in art direction from James Fooks-Bale and Dan Rhatigan, creative director and type director at Monotype, respectively.
Using a variety of typefaces, the annual comprises features on branding, design, typography, technology, digital media and a special section devoted to transport and travel. The different sections are highlighted by the use of complementary typefaces.
For example, an article by design consultant Dave Cochrane is set in Adrian Frutiger's famous Frutiger® design, used extensively throughout the world, such as in various airport wayfinding systems. A feature by technology journalist David Nield is set in the Droid™ Sans design, the open typeface created by Monotype's Steve Matteson for use in the Android® operating system.
The annual consists of several features of updated pieces from brandperfect.org and one commissioned for Wired UK, along with new articles, such as "The Wisdom of the Age." The piece asks 20 brand, design and development professionals including Marketing Week's editor Ruth Mortimer, D&AD's chief executive officer Tim Lindsay, and Moleskine's vice president of brand equity and communications Maria Sebregondi, what they learned in 2013 and how that's informing their approach in 2014.
"For the first Brand Perfect Annual, we set a strong grid structure against which the design could be adapted to reflect the many types of content," said Leslie. "Each article uses a different typeface from the Monotype® Libraries, and the pace is set by varying visual treatments, while common elements such as grid rules and picture captions help hold the whole thing together. Individual inspirations include Facebook pages, airport graphics and Web advertising, while an overarching reference point was traditional children's annuals which use multiple styles across their pages."
Neil Ayres, editor of Brand Perfect, said, "The Brand Perfect Annual highlights the importance of design and innovative technology in branding, not just in relation to visual communication but all aspects of brand experience, from customer service through to product development. Jeremy Leslie's clever design for the Brand Perfect Annual complements not only its subject matter but serves to reinforce this message."
About Brand Perfect
Brand Perfect by Monotype brings together brands, designers and developers. Members have access to exclusive features from invited writers and research on how to deliver cross-platform branded experiences. Members also have the opportunity to participate in international member events and networking opportunities. To join Brand Perfect and receive a free copy of the Brand Perfect Annual, visit http://www.brandperfect.org.
About Monotype
Monotype is a leading global provider of typefaces, technology and expertise that enable the best user experience and ensure brand integrity. Based in Woburn, Mass., Monotype provides customers worldwide with typeface solutions for a broad range of creative applications and consumer devices. The company's libraries and e-commerce sites are home to many of the most widely used typefaces – including the Helvetica®, Frutiger and Univers® families – as well as the next generation of type designs. Further information is available at http://www.monotype.com.
Brand Perfect is a trademark of Monotype Imaging Inc. Monotype, Helvetica and Frutiger are trademarks of Monotype Imaging Inc. registered in the U.S. Patent and Trademark Office and may be registered in certain jurisdictions. Univers is a trademark of Monotype GmbH registered in the U.S. Patent and Trademark Office and may be registered in certain jurisdictions. Android is a trademark of Google Inc. registered in the U.S. Patent and Trademark Office and may be registered in certain jurisdictions. All other trademarks are the property of their respective owners. ©2014 Monotype Imaging Holdings Inc. All rights reserved.
Contact:
Monotype
Vikki Quick, 781-970-6115
vikki.quick(at)monotype(dot)com
Propeller
Helen Nassey, 44 (0) 20 3301 5341
helen.nassey(at)propellergroup(dot)com
Maisberger
Vera Faller, 49 (0) 89 / 41 95 99 15
vera.faller(at)maisberger(dot)com