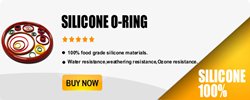 (PRWEB) February 17, 2014
Many scientific researches reveal that some hazardous chemicals may migrate from food packaging, food processing equipment and other food contact materials to foodstuff that will be harmful to human being. Some countries have established special criteria (LFGB for Germany, FDA for USA, etc.) to ensure such products are safe for daily use as food contact material. Recently, TOGOHK.com has introduced its FDA/LFGB colorful Silicone O-rings for its global customers.
TOGOHK.com is a well-known Silicone O-rings supplier, and its products consist of silicone cases, silicone bracelets, silicone tubes, silicone seals and other silicone products. The company has won a great reputation for its top quality products and services.
"The FDA or LFGB provides a framework of mandatory requirements controlling commodities coming in contact with foodstuffs. Our colorful silicone O-rings are FDA/LFGB approval. If someone wants to buy FDA/LFGB colorful silicone O-rings, he can visit our website and contact with us," the CEO of TOGOHK.com states. "Any order before Mar. 11, 2014 can enjoy a special discount. We hope more silicone product wholesalers and distributors know our products and services through the promotion."
The pricing of colorful silicone O-rings is updated everyday for buyers. OEM orders are welcomed at TOGOHK. Any person who is requesting pricing can use the support call center to find out the latest quotation.
About TOGOHK.com
Founded in 2003, TOGOHK is a globally accomplished silicone product development company that has developed into a modern enterprise that offers its clients worldwide a one-stop silicone product solution from conception to delivery. With high technology engineering and advanced CAD and CAM, the company has been serving more than 3000 customers from over 70 countries.
For more information about the business, please visit their website at: http://www.togohk.com/?gallery=silicone-o-ring.