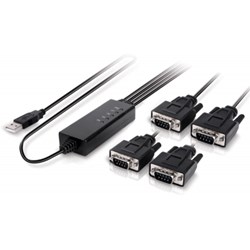 (PRWEB) February 17, 2014
Recently, Hiconn Electronics, the distinguished cable manufacturer and retailer, has launched a site-wide promotion of high end USB 2.0 to 4 ports serial cables. According to the CEO of the company, all its USB 2.0 to 4 ports serial cables now come with great discounts, up to 28% off. The deadline of the promotion is February 27, 2014.
Listed in the company's product category are numerous practical electronic devices. It is famous in the international market for quality products like SDI to HDMI Converters, Active Mini DisplayPort 1.2 to VGA Adapters, 5M Active USB 2.0 Repeater Cables and so on. The excellent service, competitive prices and fast delivery are also its advantages.
Here is some detailed information about the company's USB 2.0 to 4 ports serial cables:
Model No.: USC-401
Approvals: CE-FCC-RoHs2-REACH
Packing Info.: 50PCs/CTN
Payment Terms: L/C-T/T-Western Union-Paypal
Minimum Order Quantity:10PCS
Brief Description: Convert one USB port to 4 serial ports.
Target Markets: Africa-Asia-Eastern Europe-Northern Europe-Latin America-North America-Oceania-Western & Southern Europe
Compatible with USB specification 1.1 & 2.0
Support 2 ports Serial ports at the same time
Support all common RS-232 serial port
Automatic USB protocol handling
Support remote wake-up and power management
Bus power support ,no external power supply required.
Support Win 98 / ME / 2000 / XP / Vista / Windows 7/8 and Mac 10.4/5.
The CEO of the company states, "We launch the special offer to attract more clients and expand our online market. Our company is excellent when it comes to high end devices. A lot of our items are highly praised by worldwide distributors. Thus, I have confidence in our new USB 2.0 to 4 ports serial cables."
About Hiconn Electronics
Hiconn Electronics (Shenzhen Hiconn Electronics Co. Ltd.) is devoted to designing and manufacturing a wide range of connection cables and customized cable assemblies, offering many HDMI cables, VGA cables, SATA cables, USB cables, 1394 cables, DVI cables, SCSI (Small Computer System Interface) and more. For more information, please visit http://www.hiconn.net/.
Contact Person: James Yin (Sales Director)
Company Name: Shenzhen Hiconn Electronics Co., Ltd.
Address: Shenghua Building., Xixiang Road., Baoan District, Shenzhen, Guangdong Province, China
Zip Code: 518102
Tel: +86-755-8109 8345
Fax:+86-755-2779 3497