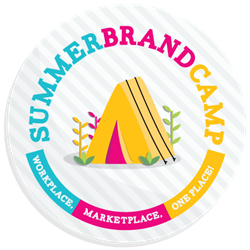 "I was simply blown away at the value! I walked away with action items not only for my professional life, but my personal life as well. This will be the one conference I make sure to attend every year."
Dallas, TX (PRWEB) February 17, 2014
Restaurant industry professionals will gather in Dallas, Texas this June 3-5th, for the 5th annual Summer Brand Camp produced by TDn2K™ and BTC Revolutions. The two host firms represent the best business intelligence, research, and digital brand expertise available to the service sector workplace. Industry professionals who come to "experience" Summer Brand Camp include operators, human resource and recruitment practitioners, marketers, social media and community managers, along with savvy technology partners. The theme of "Workplace, Marketplace, One Place" focuses on the intersection of employer and consumer brands in the digital age. Conference content and events promote the vision of a work environment without silos, anchored in community and purpose that can improve the future for the restaurant industry and their stakeholders.
"I thought Summer Brand Camp would be a typical conference. Little did I know it would change my outlook on where I wanted to take my career, and better yet, amplified everything that I was already proud about in my work" said Chris Ebbeler, Senior Manager Workplace Community and People Branding at Brinker International. "This conference has had the largest impact on my professional mindset in many years" added Jessie Bray, Vice President of Human Resources and Training at Romacorp.
Speaker line-up includes some of the best, brightest and most talented branding and business leaders including Scott Stratten, Author of "Unmarketing & QR Codes Kill Kittens"; Dr.Bob Deutsh, Cognitive Anthropologist, Author and CEO Brain Sells; Anne Mahlum, Founder of Back on My Feet; Avery Block, HR Social Marketing and Engagement Manager at Taco Bell; and James Markham, CEO and Founder of Project Pie.
In 2013, this sold out event attracted over 300 passionate and innovative leaders representing more than 85 brands including Red Robin, Le Duff, Union Square Hospitality Group, T.G.I. Friday's, Yum! Brands, Focus Brands and Buffalo Wild Wings. The 2014 event has already attracted brands including Chili's, Wild Flower Bread Company, Applebee's, CC's Coffee and Tyson Foods.
"I was simply blown away at the value! I walked away with action items not only for my professional life, but my personal life as well. This will be the one conference I make sure to attend every year. The balance between business, volunteering and networking made for a spectacular week!" were just some of the comments from last year's campers.
Now in it's fifth year, Summer Brand Camp is supported by an elite group of sponsor partners including Coca Cola, Snagajob, Wyckwyre, Splickit, Righteous Clothing Agency and Constellation Brands.
Registration is open at a cost of $495 per attendee. Through February 28th, attendees can take advantage of a buy one get one free registration promotion. Summer Brand Camp is held June 3-5th, 2014 in Dallas Texas at the Westin Park Central Hotel. Sponsorship opportunities are still available. Please contact Melissa Papaleo for more information (Melissa.papaleo(at)prbbi(dot)com), http://www.summerbrandcamp.com.
TDn2K (Transforming Data into Knowledge) is the parent company of People Report, Black Box Intelligence and White Box Social Intelligence. People Report provides service-sector human capital and workforce analytics for its members on a monthly basis. Black Box Intelligence provides weekly financial and market level data for the restaurant industry. White Box Social Intelligence, currently in beta, will deliver unparalleled consumer insights and reveal online brand health. Together they report on over 30,000 restaurant units, one million employees and 35 billion dollars in sales. They are also the producers of two leading restaurant industry conferences: Summer Brand Camp and the Global Best Practices Conference, each held annually in Dallas, Texas.