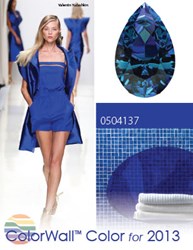 At Color Solutions, we're in a unique position to see color in real time as well as in the context it is being selected. We have the ability to monitor trends and identify patterns that our customers value during their color selection process.
Charlotte, NC (PRWEB) February 19, 2014
Color Solutions International (CSI), a division of the DyStar Group announces Cobalt Blue as the 2013 Color of the Year.
CSI works with many major brands and retailers around the world and therefore is in a unique position to see colors that are "real time" as well as in the context of how they are used. The frequency that colors are used on palettes, how often they are requested through searches, and ultimately how many Certified Color Standards are requested can indicate the amount of product that will be created using a color.
With this information, CSI posts an update on its website and blog every month defining the Top Colors of the Season. This is valuable information for anyone interested in trending color. At year-end, the Top Color of the Year is posted. In addition, there is data available that will allow you to review color usage in years past.
For the year of 2013, Cobalt Blue was CSI's most popular color because just about every month's Top 3 Selling ColorWall™ colors featured a shade of Cobalt Blue. The most requested version is depicted in the imagery below and designated by CSI ColorWall™ number 0504137. In addition, custom dyed versions of this shade were highly requested during this period for cotton, nylon, and polyester fabrics.
In addition to monitoring current trends in color usage, CSI also produces Seasonal Inspirations twice a year. CSI Inspirations offer trend aligned and popular seasonal colors presented in different color palettes. Each inspiration has its own theme and brings the color palette into a context to inspire designers and help them to plan the upcoming season.
About Color Solutions International (http://www.CSIColors.com)
Color Solutions International, a division of DyStar, provides retailers and brands with a variety of flexible color options and services. Starting with the first design inspiration, through color selection and then to the final product in the store, CSI's expert staff provides fast, efficient and accurate process to respond quickly and effectively to today's retail market. CSI is part of the DyStar Textile Services (DTS) division that offers state of the art color communication through Color Solutions International (CSI), textile and ecology testing through Texanlab, and ecology and environmental solutions and advice through its Ecology Solutions team. DTS also offers Sustainable Textile Service programs which are specifically developed to assist brands & retailers and their industry partners audit their supply chain and recommend RSL compliant sustainable solutions for improvement. With a focus on sustainability and eco compliance, our team of well-trained staff and modern service labs in major markets ensure that customers worldwide receive fast and expert technical assistance and advice to reduce costs, shorten lead times and meet stringent quality and ecological specifications. Visit us at http://www.DyStar.com for more information.
MEDIA CONTACT
Stephanie Schank
Global Marketing Communications
DID: +1 704 561 3086
Email: schank.stephanie(at)dystar(dot)com