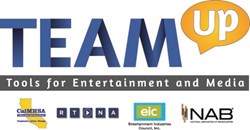 Journalists can proactively inform and impact their audience with authentic stories that spotlight the issues in their area; it comes down to trust and access. - Marie Gallo Dyak
Los Angeles, CA (PRWEB) February 19, 2014
Picture This: Mental Health in the San Francisco Bay Area, a resource guide for journalists covering mental health, is now available electronically through the Entertainment Industries Council's TEAM Up (Tools for Entertainment and Media) project. The publication is the resulting resource from the informative webcast forum produced by EIC and KTVU/TV36 Oakland – San Francisco – San Jose last July. During the forum, issue experts in mental health were united with news media professionals specializing in health issues from the Bay Area to prioritize the under-served in their community. A "Reporting on Mental Health Style Guide" is also available at http://www.eiconline.org/teamup.
The Picture This: Mental Health in the San Francisco Bay Area resource publication includes priority topics for reporters, questions to ask when working on a developing story, insights from the Picture This media panel, resources available in the Bay Area, facts and figures, and more that will help create positive change in the way media reports on mental health in the Bay Area.
"The increased communication about mental health between stakeholders and the media is invaluable to gaining a mutual understanding of what people know and what they don't know. Journalists can proactively inform and impact their audience with authentic stories that spotlight the issues in their area; it comes down to trust and access," said Marie Gallo Dyak, Executive Vice President of Program Services & Government Relations and TEAM Up Program Director for EIC.
"Our goal for Picture This is to bring together stakeholders, journalists, consumers and advocates to create an atmosphere of understanding and partnership," said Brian Dyak, President and CEO of EIC.
"Storytelling is powerful. Accurate portrayals provide readers with a deeper understanding of their fellow Californians, which can lead to compassion and an understanding of those living with mental health challenges that builds healthier communities."
"Our goal was to work together to decrease the stigma and discrimination surrounding mental illness through breadth and depth of accurate, authentic, informative and inspiring stories we report to our community members," commented Tom Raponi, Vice President and General Manager KTVU/KICU TV-36. "Stories that are accurate in reporting about mental health can foster a change in attitudes that encourages help-seeking behaviors, acceptance, and reduce discrimination against those with mental or behavioral health concerns. By bringing all of us together for a conversation around mental health, this event certainly helped us serve the community and enable the power of news media to impact audiences."
About Entertainment Industries Council
EIC is a non-profit organization founded in 1983 by leaders within the entertainment industry to bring the power and influence of the industry to communicate about health and social issues. The organization is considered to be the chief pioneer of entertainment and journalism outreach and a premiere success story in the field of entertainment education. This mission relies on providing resource information to the creative community and culminates in recognition of the industry through the national television special PRISM Showcase which addresses accurate portrayals of substance use issues and mental health concerns. The organization also produces the SET Awards, honoring positive and non-stereotypical portrayals of science, engineering and technology.
For a complete list of health and social issues addressed by EIC and local projects, please visit First Draft and EIC's website. EIC's web site is http://www.eiconline.org. The PRISM Awards web site is http://www.prismawards.com. The SET Awards web site is http://www.eicsetawards.com.
About TEAM Up
TEAM Up, a campaign of EIC funded by California's Mental Health Services Act (Proposition 63), has solicited ideas and information from journalists, entertainment industry leaders and mental health experts to create these resources. Media and entertainment professionals can play a significant role in the public's understanding of mental health. Inaccurate or unbalanced portrayals of individuals living with mental illness fuel misconceptions and subsequent discrimination, which deter individuals from seeking services and support for their mental health challenges. TEAM Up is one of the Prevention and Early Intervention projects administered by the California Mental Health Services Authority. TEAM Up's media partners include the National Association of Broadcasters and the Radio Television Digital News Association.
Visit http://www.eiconline.org/teamup to learn more about the TEAM Up initiative and download vital resources for accurate mental health coverage, including the Style Guide: Reporting on Mental Health and the California News Media Analysis. Follow @MediaTEAMUp for daily highlights of accurate mental health news coverage, the latest in California mental health news and resources that provide guidance for responsible coverage.
About Cox Media Group
Cox Media Group is an integrated broadcasting, publishing, direct marketing and digital media company that includes the national advertising rep firms of CoxReps. Additionally, CMG owns Cox Target Media, which operates Valpak, one of North America's leading direct marketing companies, and Savings.com, a leading online source for savings. The company's operations currently include 14 broadcast television stations and one local cable channel, 57 radio stations, eight daily newspapers and more than a dozen non-daily publications, and more than 100 digital services. CMG currently operates in more than 20 media markets and reaches approximately 52 million Americans weekly, including more than 30 million TV viewers, more than 3.5 million print and online newspaper readers, and more than 14 million radio listeners. For more information about Cox Media Group, please check us out online at http://www.coxmediagroup.com.