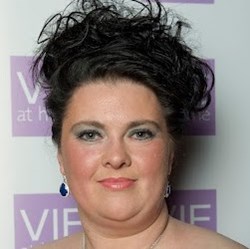 We see from GJ Reynolds being in best shape at age 52," she said. "He is walking billboard and is able inspire many people.
Pittsburgh, PA (PRWEB) February 20, 2014
Simply G Media Network today announced the release of a recent interview with ViSalus 2-Star Ambassador Amanda Churcher on The Beachlifestyle Radio Show with host Neil Haley, the Total Tutor.
Neil Haley, The Total Tutor host of the Beachlifestyle Radio show, interviewed 2-Star Ambassador from ViSalus Amanda Churcher to find out why she joined the challenge and her experiences at the event in Detroit and the launch in the UK.
Churcher, an entrepreneur from the UK, has lost 80 pounds and has had great success with her ViSalus business. Her goal is to transform people's lives and end obesity.
In the interview, Churcher talked about how she lost the weight after starting the challenge less than a year ago.
"My body was not happy in its own skin," Churcher said, who at one point had broken her back, which caused her severe weight gain. She knew that she need to change her lifestyle. "The challenge changed me. I had neglected my body."
The Challenge has helped her health. She has dropped two of four blood pressure tablets. She no longer has IBS. She stopped using a walking stick and she gave back her mobility badge.
Churcher is very excited about doing the 90-Day Health Challenge. "Doing it through body by Vi's great platform and sticking to it really worked. My family has lost combined weight 290 pounds."
There were reasons why Churcher chose ViSalus. She had to have surgery and the doctor wanted her to lose 56 pounds. Her daughter wanted her to start a foundation to help eliminate childhood obesity. Then, Churcher was contacted by ViSalus and she decided to it.
"I had two businesses before this, so I looked at the income plan and realized that I could become healthy and wealthy."
Churcher shared that ViSalus had the most fabulous UK launch. She has heard from many people after the event and they are enthused. "I tell my team, If you take the Mission fighting obesity, you can not listen to the no's. The promoter is the face obesity you are working advertisement."
"We see from GJ Reynolds being in best shape at age 52," she said. "He is a walking billboard and is able inspire many people. Gj shares, "Amanda and her husband Neil have led from the front. They are living examples of what is possible with The Body By Vi Project 10 Challenge, both from a health and prosperity standpoint! They are changing lives, starting with themselves."
You can listen to the interview by going to http://www.simplygmedia.com.