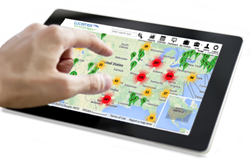 With the integration of Google Maps into Lx Retail, users now have the ability to drill down and access any data in the system simply by navigating through a map.
Dallas, TX (PRWEB) February 18, 2014
Lucernex Technologies, the leader in retail real estate solutions, announces the release of Lx Retail and Lx Retail Mobile 9.2 including fully integrated Google Maps. Users on any device can now access their entire portfolio within Google Maps, view a client definable map pin popup, drill down into 100% of system data and much more.
Lx Retail is a True Cloud solution which enables users to access 100% of its features from any device at any time without having to learn to use a custom mobile APP with limited functionality.
Using Lx Retail Mobile with Google Maps, Real Estate Managers can submit sites and complete site surveys while on site, geo-code locations to run quick demographics, access leases from the map, analyze access and traffic from their home office and beat their competition to the best sites.
Construction Managers can complete workflows, enter schedule task information, complete forms, complete 30/60/90′s, take and upload photos and submit change orders for approval all while on the project site.
Users of Lx Retail's Facilities Management module can enter service requests, review work order status, receive work assignments, complete service records and take photos of facilities issues and upload, while standing at the store.
Lucernex began supporting many features on mobile devices in early 2011, and took the full Lx Retail product mobile in May of 2012. With our 9.2 release we fully integrated all available features within Google Maps into Lx Retail and Lx Retail Mobile.
The new Google Maps features includes:

Portfolio View with quick sorts on sites, projects, stores, locations and brands
Client definable map pin popups including links to leases and contracts
Links directly to full leases and contracts from map
One click drill down on everything
One click zoom-in to any map point
Street View to see a site or store up close
Satellite View with zoom to view center access and quality
Traffic View to analyze site quality
Instant geo-coding of submitted sites
Lx Retail and Lx Retail Mobile also offer optional integration into several Geo-Analytics platforms, integrating store performance and market optimization modeling.
About Lucernex
Founded in 2000, Lucernex Technologies provides retail real estate professionals with powerful cloud-based solutions to manage the store lifecycle. All Lucernex solutions were designed "by retailers for retailers" and can manage any size portfolio of leased and owned properties. Fortune 500 companies in the corporate real estate, hospitality and retail industries use Lucernex Technologies solutions every day to ensure compliance, mitigate risk and empower effective growth. As an innovative leader in retail real estate solutions, Lucernex continues to grow its customer base by applying its Web-based software expertise and real estate development insight to provide advanced tools and services for business. For more information, please visit http://www.lucernex.com.