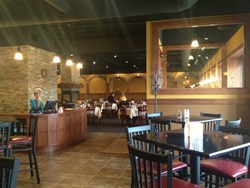 "The owner wanted to be sure the table tops would match the finish of his chairs".
St. Paul, MN (PRWEB) February 18, 2014
Leading commercial furniture distributor, Restaurant Furniture.net recently teamed up with Sole Mio Ristorante in Woodbury, Minnesota to upgrade its image with new chairs, bar stools, table tops and table bases.
Sole Mio Ristorante is located in Woodbury, Minnesota at Valley Creek Mall. Woodbury is a suburb of the Twin Cities metropolitan area east of St. Paul. Sole Mio Ristorante focuses on the Italian custom of dining with family and friends. The menu reflects Chef Angelo Montes' Italian roots and philosophy of serving traditional and contemporary Italian cuisine along with steaks and seafood highlighting the old world flavors of the Mediterranean.
The owner of Sole Mio needed high quality commercial seating that would look great and be able to withstand the high traffic that the bar experiences on a daily basis. "The owner needed sturdy, durable chairs, bar stools and table tops that look great, but he didn't want to spend a lot of money," explained David M. He turned to Restaurant Furniture.net because of their reputation for premium quality and strong built furniture at affordable prices. Restaurant Furniture.net supplied Sole Mio with high quality chairs, bar stools and table tops that fit well within his budget.
For seating decided to go with Restaurant Furniture.net's Wood American Back Restaurant Chairs. The chairs are made in the USA from responsibly harvested wood grown in the Midwest. He chose the dark mahogany finish with black vinyl seats. The chairs come in 5 standard finishes. Customers can choose a padded seat or a solid wood seat. Custom finishes can be made at additional cost and the padded seat can also be custom made in any material.
He also chose Vertical Slat Metal Chairs and Bar Stools with black frames and vinyl padded seats in garnet color for the rest of his seating. Customers can choose a solid wood seat or an American made padded seat made of vinyl or fabric. Wood seats are available in 6 different finishes. The frame is available in black, copper vein, silver vein, gold vein or gold. The Vertical Slat Metal Chair sells for $38 and matching bar stool sells for $49. A Vertical Slat Swivel Bar Stool is available for $55.
For tables, he decided to go with solid wood table tops in dark mahogany finish with eased edge. All of Restaurant Furniture.net's solid wood table tops are made in the US. The table tops come in various sizes and shapes and start as low as $82. There are 5 standard finishes to choose from. A custom finish can also be made. "The owner wanted to be sure the table tops would match the finish of his chairs," said Dave. The owner also bought 30 X 30 Custom Inlay Table Tops with dark mahogany finish with premium laminate graphite nebula for $184.
Browse Restaurant Furniture.net's full selection of commercial grade chairs, bar stools, table tops, table bases, booths and patio furniture at http://www.restaurantfurniture.net or talk to a customer service representative at (888) 409-1115
Sole Mio Ristorante is located at 1750 Weir Dr. in Woodbury, MN. They can be reached at (651) 789-3220.