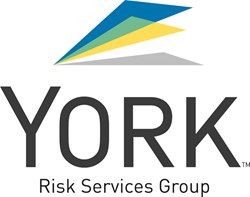 Parsippany, NJ (PRWEB) February 18, 2014
York Risk Services Group, a premier provider of a full range of claims administration and risk management services, today announced it has acquired the assets of American Claims Services, Inc. (ACSI) based in Houston, Texas and Destrehan, Louisiana. Both John Bannon and Bill Johnson of ACSI will continue to lead the acquired business. The terms of the acquisition were not disclosed.
ACSI provides claims adjusting services primarily to the London Market, as well as First Response/Medical Management Services 24/7 to the Energy Sector. This acquisition is part of York's ongoing strategic initiative to expand the breadth of its specialized loss adjusting and medical cost containment services.
Commenting on the ACSI deal, Danny Miller, President of York Specialized Loss Adjusting (York SLA), said, "This acquisition builds upon and enhances our presence and reputation in both the London Market and Energy Sector and expands our service offerings. ACSI has quality leadership, claims staff, and dedicated resources for managing and understanding the regulatory and loss fund responsibilities of London Binder business. Bill Johnson and his team are well respected within their energy niche and the addition of First Response will assist York's portfolio of energy clients in the domestic and international markets."
John Bannon, ACSI Co-President stated, "The ACSI team is excited about our partnership with York. We believe that being part of York will be a win/win for our customers and employees and will be a springboard for future growth in the London Market."
Bill Johnson, ACSI Co-President said, "I look forward to working with York and expanding ACSI's First Response capabilities to York's broad customer base."
Rick Taketa, President, York Risk Services Group, commented, "We welcome ACSI to the York family of companies. ACSI is a natural fit with York – both organizations share a commitment to excellence, service, quality and delivering outstanding results to our customers. We are pleased to welcome their employees to York.
Chris Heckert, Vice President of Generational Capital Markets was advisor to ACSI in this transaction.
About York Risk Services Group
York Risk Services Group Inc. is a premier provider of claims handling, specialized loss adjusting, managed care, pool administration, loss control and other risk management and insurance services nationwide. York provides risk management and managed care solutions to a variety of strategic partners, including insurance carriers, self insureds, brokers, wholesalers, MGAs, programs, risk pools and public entities. York delivers customized claims solutions for all lines of business, including property, liability, products liability, ocean and inland marine, environmental, transportation and logistics, construction and workers' compensation. York is based in Parsippany, New Jersey and has 3,750 employees nationwide.
Visit us on the web at http://www.yorkrsg.com.
About American Claims Services, Inc.
American Claims Services, Inc. (ACSI) provides claims adjusting, Third Party Administration services, claims and litigation supervision and management expertise, and medical management services to insurance companies and to self-insured businesses. Clients include Lloyd's of London Syndicates in the London Market, as well as major international companies engaged in the onshore and offshore oil and gas industry. ACSI has offices in Destrehan, LA, Lafayette, LA, Houston, TX, and Los Angeles, CA.