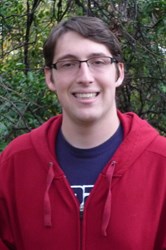 "As successful tech entrepreneurs who were blessed with great mentors and opportunities along the way, my colleagues and I place value on giving back to the next generation of tech leaders like Bradley." -Robert C. Johnson, TeamSupport CEO
Dallas, Texas (PRWEB) February 18, 2014
TeamSupport.com helpdesk software is pleased to announce that Bradley Mahoney, a sophomore at the University of Texas at Austin, has been selected to receive TeamSupport's 2014 Future Technology Innovators Scholarship.
The $2,000 scholarship, which is designed to promote technology entrepreneurship and support the next generation of technology innovators, is awarded to one student currently enrolled in an accredited college or university who is studying technology, computer science, web development, business or a related field.
Mahoney, a native of Lake Orion, Michigan, is majoring in computer science at the University of Texas – Austin. He will graduate in the spring of 2016 and aspires to own a software or green environmental technology company in the future.
A recent Hewlett-Packard intern and the co-founder of a small technology consulting company, Mahoney first became interested in computers as a child, playing video games and then working his way up to more sophisticated computing. "I took a programming class in high school—and it just clicked," he said. "I thought, 'This is so much fun, why have I never done this before?'"
"As successful tech entrepreneurs who were blessed with great mentors and opportunities along the way, my colleagues and I place value on giving back to the next generation of tech leaders like Bradley," said Robert C. Johnson, co-founder and CEO of Dallas-based TeamSupport. "This support is especially critical during a time when national headlines continue to dominate about the sluggish economy and the difficulty students face paying for college and gaining meaningful professional skills."
Over the course of his career as an information technology professional, entrepreneur and CEO, Johnson has founded and led multiple technology and software companies. In 1994 he founded Sundance Digital, the creator of software for TV stations to control the playout of commercials and programs—a technology that today touches everyone who watches TV. After the company was sold to Boston-based Avid Technologies in 2006, he founded TeamSupport.com, one of the leading collaborative customer support software suites on the market. Johnson also is a frequent guest columnist for Wired, DestinationCRM and CustomerThink, several leading technology and customer support industry resources.
Johnson, who mentors up-and-coming entrepreneurs, says: "I tell young entrepreneurs, just do it. There is no better time to start a company than when you are young. The older you get, the more you have to risk and the more tempting a safe job is. When you are young, you can afford to take the risks to start a company—and you have the energy and passion to make it happen. I'm proud to help young business people gain the skills and experience to do just that."
About TeamSupport
TeamSupport.com, based in Dallas, Texas, is a Web-based help desk and service desk application built specifically for customer-facing support. Built by a team of veteran software company executives, TeamSupport has won many awards and is a trusted software provider to prominent business clients around the globe. Learn more about why TeamSupport is one of the best help desk software solutions on the market today by visiting http://www.TeamSupport.com.