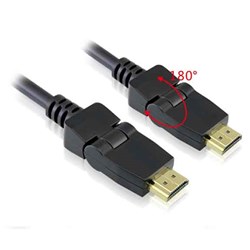 We enable our consumers to connect these improved HDMI cables to any HD device and enjoy the flawless digital experience.
Hayward, CA (PRWEB) February 19, 2014
SF Cable, a worldwide wholesale distributor of premium home theater systems, network cables, and electronic related products, has recently upgraded its HDMI cable collection. With the release of improved HDMI cables, the company has once again fulfilled its commitment of presenting quality solutions at affordable prices.
When requested to discuss the beneficial features of HDMI cables, the official representative of SF Cable stated, "HDMI cables have become a necessity in this age of technology. They not only allow different electronic components to work smoothly, but also let you get the most out of your digital TV, computer monitor, or audio/video device. Our developed HDMI cables can support data transfer rate up to 10.2 Gbps. Since these cables have an exclusive HDMI Ethernet channel, they can be used with any IP-enabled gadget. The best thing is that our consumers don't need a different Ethernet cable for such devices."
The company offers different length options for HDMI cables, ranging from 1 meter to 5 meter. The improved versions of HDMI cables feature special connectors offering 180 degree of swivel. "The revised HDMI cable collection is designed to offer greater flexibility and convenience to our consumers. Able to adjust in congested places, these cables involve 180 degree swivel connectors to protect your HDMI ports from additional pressure. They support 3D and 4K display devices, thus giving you a chance to choose your home theater system according to your interests," the spokesperson further explained.
According to the spokesperson, SF Cable designs HDCP-compliant HDMI cables. "We enable our consumers to connect these improved HDMI cables to any HD device and enjoy the flawless digital experience," he added.
SF Cable claims to offer an ultimate all-digital solution with its upgraded HDMI cables. To explore different size options and prices the company offers, please visit http://www.sfcable.com/hdmi-swivel-cable.html.
About SF Cable
SF Cable is a leading wholesale distributor of quality products, including computer cables, home theater equipment, laptops, and security products. Rendering valuable services since 2002, SF Cable has been serving as a one-stop shop for premium cables and accessories at wholesale prices. The company is trusted for its superior solutions, supreme services, varied offerings, and prompt customer services. Featuring over 8000 SKUs of components, accessories, and cables for consumer electronics and computer systems, SF Cable is known to support all its cables and non-electronic products with exclusive lifetime warranties.
SF Cable maintains a huge volume of inventory. This helps the company ship almost all orders received by 4:30PM PST the same day. Also, SF Cable doesn't demand any minimum and restocking charges.
Contact Details
SF Cable, Inc.
28300 Industrial Boulevard Suite F
Hayward, CA 94545-4439
Toll-Free: 888-275-8755
Local: 510-264-9988
Fax: 510-264-9989