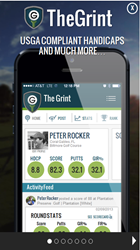 More Social, More Addictive, More Useful
Miami, FL (PRWEB) February 25, 2014
TheGrint launched its first version of the app in March of 2013. And after one year of great growth it is now releasing the first big improvement to their already best in class Golf GPS and Golf Handicap Tracker.
The new version will be more social and will incorporate many of the features that were already available on the website. Its members will be able to see every time one of their friends post a score, and the records they break. Additionally, this version will provide access to many other features like Course Reviews, Private Tours, Internal messaging, among others.
This new version comes days after the recent announcement of a price change for the TheGrint PRO membership, which are now $19.99 per year, down from $69.99 per year.
For more information you can reach out to contactus(at)thegrint(dot)com.