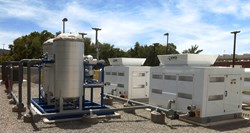 Albertville, AL (PRWEB) February 21, 2014
Cynergy Fuels has selected ANGI Energy Systems as the packager for its planned high capacity compressed natural gas (CNG) fueling station in Dothan, Alabama. Cynergy Fuels COO Randy Spence is "confident that the package provided by ANGI will provide the extremely reliable CNG fueling equipment necessary to ensure that expectations of fleet operators are met." For Cynergy, a positive experience is critically important when promoting dynamic emerging markets.
The initial station is designed with two compressors and two (2) high flow Kraus dispensers, each capable of delivering an average of approximately 10-12 diesel gallon equivalents per minute. In addition, two light duty dispenser nozzles will be provided. Additional space will be allowed for an additional high capacity compressor and dispenser to handle future growth of the station. Having "extremely reliable compression with redundancy built into the CNG fueling station in Dothan provides safeguards to our clients," Spence continued.
Cynergy announced late last year that is opening the largest public CNG in the state of Alabama in partnership with Home Oil Company and The Southeast Alabama Gas District. The station is expected to open later this year, perhaps as early as mid-summer.
For more information, call (256) 894-0098, or visit http://www.cynergyfuels.com.
###
ABOUT CORRIDOR CLEAN FUELS
Corridor Clean Fuels, LLC is an Alabama-based company focused on developing, owning and operating CNG fueling stations to distribute its Cynergy brand of fuel across the southeastern United States.