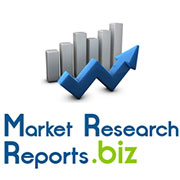 Albany, NY (PRWEB) February 24, 2014
Market Survey On Global Industrial Valve Manufacturers Market Analysis, Size, Share, Growth, Trends, Forecast, Competitive Landscape & Attractiveness Research Report 2014: Worldwide Business Survey
Industrial Valve Manufacturers (Global) Analysis provides a detailed overview of the Industrial Valve Manufacturers (Global) market and delivers a comprehensive individual analysis on the top 460 companies, including Johnson Controls Inc, Smiths Group Plc and Azbil Corporation.
To read the complete report with TOC visit: http://www.marketresearchreports.biz/analysis-details/industrial-valve-manufacturers-global-industry-report.
This report includes a wealth of information on the financial trends over the past four years. Plimsoll Publishing's latest Industrial Valve Manuafacturers (Global) analysis is ideal for anyone wanting to:

See the market leaders
Identify companies heading for failure
Seek out the most attractive acquisition
Analyse industry trends
Benchmark their own financial performance
Using Plimsoll's exclusive methodology, a quick glance of this Industrial Valve Manufacturers (Global) report will tell you that 54 companies have a declining Plimsoll financial rating, while 92 have shown good sales growth.
Each of the largest 460 companies is meticulously scrutinised in a one-page individual assessment and is analysed using the most up-to-date and current financial data.
Every business is examined on the following features:
The Plimsoll Chart: A graphical assessment of a company's financial performance
An independent financial valuation
Four year assessment of the profit/loss and balance sheet
A written summary highlighting key performance issues
Subsequently, you will receive a thorough market analysis highlighting the latest changes in the Industrial Valve Manuafacturers (Global) market.
Click here to download detail report: http://www.marketresearchreports.biz/sample/sample/187219.
This section includes:
Best Trading Partners
Sales Growth Analysis
Profit Analysis
Market Size
Rankings
Established in 1987, Plimsoll provides busy managers with a set of tools to monitor the financial welfare of their company, their rivals, or those they wish to acquire. The reports are used to assess the attractiveness of potential acquisitions, gain better understanding of a market and identify sound companies with whom to trade.
Table of Contents
Plimsoll's Industrial Valve Manufacturers (Global) analysis is the most definitive and accurate study of the Industrial Valve Manufacturers (Global) sector in 2013.The report is split into two sections and uses both a written and graphical analysis – analysing the 460 largest Industrial Valve Manufacturers (Global) companies.
The Industrial Valve Manuafacturers (Global) report contains the most-up-to-date financial data and Plimsoll applies these figures to create their unique and authoritative analysis.
Indeed, the first section thoroughly scrutinises the market and this section includes the following:
Best Trading Partners: These are companies that are winning in both sales and financial strength – for example APOK has been ranked as a best trading partner in the industry.
Sales Growth Analysis: This section reviews the fastest growing and fastest shrinking company – for example COLFAX CORPORATION is among the fastest growing.
Profit Analysis – Analysis of gross profit and pre-tax profit over the last ten years and a profitability summary comparing profits in the industry against small, medium and large companies.
Market Size: Based on the largest 460 companies, this is a comparison between last year\'s market size and the most current figure. This year the market has increased by 4.4%
Rankings: The top 50 companies ranked by: Market Share, Sales Growth, Gross Profit and Pre-tax Profit.
About us
MarketResearchReports.biz is the most comprehensive collection of market research reports. MarketResearchReports.Biz services are specially designed to save time and money for our clients. We are a one stop solution for all your research needs, our main offerings are syndicated research reports, custom research, subscription access and consulting services. We serve all sizes and types of companies spanning across various industries.
Contact
M/s Sheela
90 Sate Street, Suite 700
Albany, NY 12207
Tel: +1-518-618-1030
USA – Canada Toll Free: 866-997-4948
To buy the copy of this report visit: http://www.marketresearchreports.biz/analysis/187219.