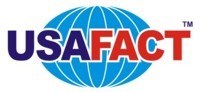 We are very proud of our expanding partner network as we broaden our service set to enhance our customer service.
Golden, CO (PRWEB) February 21, 2014
USAFact, a leading nationwide provider of pre-employment background screening services for more than 36 years, has been expanding their comprehensive pre-employment screening suite of services with additional offerings in their existing partnership with ShadowMatchUSA's Behavioral Benchmarking System.
"We offer business owners a complete set of pre-employment screening tools that enable them to choose the perfect candidate for every position," said USAFact Market Development Manager, Erik Dahlen. "We are reminding the HR industry that we also provide clients with an assessment program that can determine candidates with specific behaviors that lend to a position's peak performance."
The ShadowmatchUSA Behavioral Benchmarking System uses 20 years of data to determine the key performance indicators that signal the mark of employee top performing excellence. It helps with role/job benchmarking and enables precision interviewing and recruitment.
"This system is designed to help employers with all aspects of recruiting and talent deployment," Dahlen said. "It is a perfect component of our complete pre-employment screening toolbox."
The USAFact pre-employment screening toolbox also includes Pre-Employment Background Checks, Consent Based Social Security Verifications (CBSV), Work Opportunity Tax Credit Surveys (WOTC), Drug Testing, Health and Fitness Assessments, Fleet Driver Record Monitoring, and much more.
"We really do offer a complete end-to-end pre-employment screening suite to enable business owners to make sure they choose the right candidate, the first time," Dahlen said. "We are very proud of our expanding partner network as we broaden our service set to enhance our customer service."
For more information about the USAFact pre-employment screening suite of services, please check out their website at http://www.usafact.com.
About USAFact, Inc.
Successfully operating in the background investigation field for over 36 years, USAFact has been recognized as the hiring solution provider which delivers the most accurate, up to date, and thorough background screens in the industry. As a leading online pre-employment screening service, USAFact combines the latest Internet technologies with the expertise of an experienced professional staff to deliver a proven resource to thousands of clients, processing thousands of reports daily. Offering a variety of screening packages for businesses of any size, from the small non-profit to Fortune 500, USAFact provides services custom-tailored to their individual needs.
For additional information on USAFact's products and services, please visit http://www.usafact.com, or call (800) 547-0263.