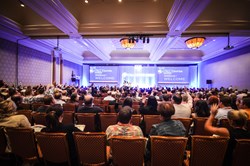 Las Vegas, NV (PRWEB) February 20, 2014
Call Center Week recently announced the remarkable plans for its 15th Anniversary to be held June 9-13 at Mandalay Bay Resort & Casino in Las Vegas. This year's event, themed "Competing on Service: Seize the Opportunity," is tailor made to be exceptionally inspiring, practical and innovative for the world's largest gathering of high-level call center professionals.
Call Center Week is unparalleled to any other event in the industry, offering an impressive schedule of events this year. More than 1,500 attendees will be immersed in several skill-based workshops, multi-speaker master classes, unique networking opportunities and call center site tours.
A variety of sessions have been added to Call Center Week this year, including nine workshops; more than 20 topic champions on hand for casual conversations on important topics; Breakfast with Keynote Speaker, Jenn Lim, Zappos Culture Book Creator; a Williams-Sonoma Call Center Site Tour; and much more.
"We are especially thrilled to kick off Call Center Week this year as we look forward to celebrating our 15th Anniversary," said Lisa Schulman, Executive Producer of IQPC's Call Center Week. "For our largest Call Center Week yet, attendees will have the opportunity to enjoy individualized experiences and gain the knowledge they need to boost their unique businesses."
This year's impressive line-up of speakers includes Jasmine Green, Chief Customer Advocate at Nationwide Mutual Insurance Company; Jerry Nadal, SVP Resident Shows Division at Cirque du Soleil; Christopher Cardenas, VP Customer Service Operations at Time Warner; Adriana Torres, Global Head of Customer Care Services at Visa, Inc.; and Harry Nachnani, Head of Contact Center Technology at Google; to name a few.
To register for Call Center Week or to inquire about sponsorship opportunities, please visit http://bit.ly/O9Snpi or call 1-800-882-8684. To download the event agenda, please visit http://bit.ly/1jQKLFk. Further sponsorship inquires can also be directed to spex(at)iqpc(dot)com.
About IQPC:
IQPC produces 1,500 global events that are custom-tailored to the unique needs of business executives. Founded in 1973, IQPC leverages an office network that spans six continents and a wealth of intellectual capital to provide an unparalleled portfolio of conferences and seminars. For more information, please visit http://www.iqpc.com.
Please contact:
Lisa Schulman
Executive Producer
(212) 885-2714
Lisa.Schulman(at)IQPC(dot)com