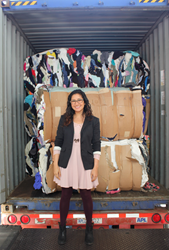 San Francisco, CA (PRWEB) February 26, 2014
San Francisco's Mayor's Office of Civic Innovation and Goodwill San Francisco, today announced the winner of the "Rags to Revenue" challenge issued on the City platform, ImproveSF.com. The winning submission, Paula Luu's "Coming Home Goods," addresses both textile waste and re-entry work challenges for formerly incarcerated residents of San Francisco. Luu's first start-up, Coming Home Goods, will recycle post-consumer textile waste into one-of-a-kind home furnishings and provide employment opportunities for the formerly incarcerated.
"Our City is filled with inspiring innovators developing responses to some of our greatest social and environmental challenges," said Jay Nath, Chief Innovation Officer for San Francisco. "The partnership between Paula, Coming Home Goods and Goodwill, is a great example of how the ImproveSF platform brings together San Francisco residents and organizations with an entrepreneurial drive and commitment to make a difference."
"Textiles at the end of their life cycle are among the fastest growing waste products," said Goodwill CEO Maureen Sedonaen. "The goal of our Rags to Revenue contest collaboration with the city was to spur and support local micro businesses that build on Goodwill's local landfill diversion mission. With 58% of people in our programs from the re-entry population, we're encouraged that the winning submission addresses this need."
"The learning curve ahead of me is Lombard-Street-steep, but I look forward to shepherding this startup forward and being a part of the city's sustainable development efforts and restorative justice movement," said contest winner Paula Luu. "My hope is that Coming Home Goods will serve as model for other businesses like this to follow."
Every year SF Goodwill receives millions of items generously donated by the residents of San Francisco, San Mateo and Marin counties. Goodwill diverts 21 million pounds from local landfills and gives them a second life through sales in Goodwill stores and eCommerce businesses. The revenue generated in sales funds Goodwill's job training and placement programs for people ready to transform their lives through the power of work. With textile waste growing, only about 40% of all goods donated to SF Goodwill are judged as high enough quality to be sold in Goodwill's stores, Goodwill, Improve SF, Good Magazine and Adaptive Path joined forces to engage San Francisco's thriving entrepreneurial community in a challenge to address the city's zero waste goals, unsellable materials and local employment issues through new businesses.
As the ImproveSF Challenge Winner, Luu, will receive a comprehensive start-up package to drive her project forward, including mentorship from TechShop, Adaptive Path, Goodwill and SFMade as well as
a launch venue and debut party at Goodwill's Georgi & Willow boutique location.
Find more information and a behind-the-scenes account of Paula's start-up journey at: http://sfgoodwill.org or http://www.innovatesf.com . Be sure to follow Coming Home Goods on Facebook (http://www.facebook.com/chgsf), Pinterest (http://www.pinterest.com/chgsf), and Twitter (http://www.twitter.com/chgsf)