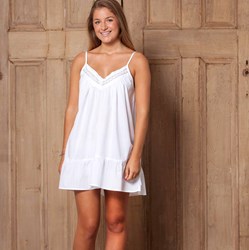 (PRWEB) February 20, 2014
Massachusetts-based linen manufacturer, Jacaranda Living, will be exhibiting at the Curve NY Show for the first time this year. The company will be showcasing its popular line of sleepwear during the event which will be held in New York City February 23rd, 24th, and 25th.
Owner Cathy Deale says the massive success of the cotton nightgown line contributed to her decision to attend this year's show. "Our cotton sleepwear category has grown to be a major part of our business and we keep expanding it so we thought we would try exhibiting at a show aimed at lingerie stores," says Deale.
Deale designed the line to include both cotton pajamas and nightgowns, with two new short styles for spring and summer which appeal to younger customers. The styles come in all-white with a little lace, pintucks, or colored embroidery. She says the soft feel of the cotton is its biggest selling feature. "The styles are not fussy. They have a little detailing and the cotton gets softer and softer with washing so it becomes a favorite," says Deale.
Jacaranda Living recently released its new 2014 catalog of fine linens. It includes sleeveless, short sleeve, three-quarter sleeve and long sleeve nightgowns, as well as two new options for pajamas which feature embroidery at each ankle or ruffles at the hem. It also offers waffle bathrobes and a white short set with blue piping.
The company offers both wholesale and retail pricing to interested buyers. Retail pricing may be found on the main website. Wholesalers should contact the company directly at info(at)jacarandaliving(dot)com for wholesale pricing.
About Jacaranda Living: Jacaranda Living is a wholesaler and retailer of fine embroidered waffle linens for home and spa, as well as bedding, cotton sleepwear, and baby pillows. The company was founded in 2004 and is based in currently based in Wellesley, Massachusetts. To find out what Jacaranda Living can do for you, visit JacarandaLiving.com