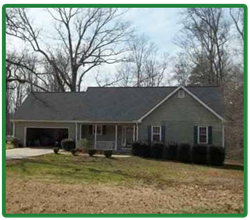 I was ready to give up on everything, let the house go and move back to Alabama. I feel good because they [AHP] gave me the opportunity to save my home. -Danita Bailey
Chicago, IL (PRWEB) February 20, 2014
As part of its continuing effort to strengthen families and communities, American Homeowner Preservation ("AHP"), is proud to feature Danita Bailey's success story as part of their new real estate crowdfunding model. Georgia resident, Danita Bailey, experienced the lowest point of her financial hardships in the Spring of 2013. After the loss of her husband and increasing difficulty finding employment, Danita's family life worsened and her mortgage payments turned unmanageable.
When AHP began working with Danita in September 2013, they saw a social impact opportunity in her predicament. AHP purchased her $60,337 mortgage and within weeks, modified the loan at a huge discount. AHP reduced Danita's monthly mortgage payments from $600 to $350. Danita recalls the moment she received the good news, "I was ready to give up on everything, let the house go and move back to Alabama. I feel good because they [AHP] gave me the opportunity to save my home."
According to a recent report of the housing market, nearly 1 in 5 Americans are underwater— a term used to describe homeowners with a combined loan amount at least 25 percent higher than their property's estimated market worth. Jorge Newbery, AHP founder and CEO, asserts, "Our mission is focused around building individual value, in hopes that we can help ease the anxieties of home ownership." To read more about Danita and her family, visit AHP's blog.
About AHP
American Homeowner Preservation, based in Chicago, Ill., generates high-yield distressed mortgage investment opportunities to help strengthen families and communities. The company leverages its expertise and crowd funding profits to provide attractive returns for both the homeowner and investment community. American Homeowner Preservation was established in 2008 as a nonprofit organization before transitioning to for profit. For information about AHP, visit http://www.ahpinvest.com or call (800) 555-1055.