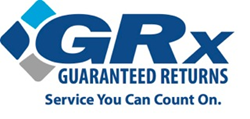 I couldn't have done it without my team.
Holbrook, New York (PRWEB) February 24, 2014
The 2013 Guaranteed Returns® Regional Manager of the Year is Richard Campbell. Richard joined Guaranteed Returns® in 2011 and manages the Mountain Region for the company. This is the second time Richard has earned this award with Guaranteed Returns®.
Guaranteed Returns® is a reverse distributor and offers pharmaceutical return services to hospital, retail, government, Mail-Order and LTC pharmacies.
Under his leadership, the Mountain Region has grown year over year with double-digit growth in 2013. Richard and his team have been instrumental in landing numerous IDN (Integrated Delivery Network) healthcare systems.
"I am excited and honored to have won Regional Manager of the Year. I couldn't have done it without a total team effort. We have worked diligently to not only service our customers throughout the Mountain Region but also to win new pharmaceutical returns clients," stated Richard Campbell.
About Guaranteed Returns®
For over 25 years, Guaranteed Returns® has provided pharmaceutical return services to hospital, government, independent retail, chain-store, LTC, Mail-Order and clinic pharmacies. Local GRx on-site service representatives are highly valued by customers for their professionalism, trustworthiness and for "going above and beyond."
Business review consultations, inventory management assistance and unbeatable customer service are just a few of the attributes that customers say sets GRx apart.
Contact Guaranteed Returns® at 1-800-473-2138, on LinkedIn or at http://www.guaranteedreturns.com.