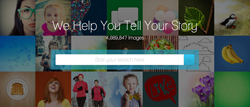 "We wanted to create a product for online users, with a focus on their actual needs. People don't need to download images when it's easier and faster to just stream them. People need great images, and that's what streaming at YAY gives them."
New York, New York (PRWEB) February 25, 2014
When searching for images, most of us use Google Images, but many are unaware that actually using these images can be a breach of copyright and therefore illegal use. "You risk is a potential lawsuit from a photographer, brand, agency or model", says CEO and co-founder of YAY Images, Linda L. Johannessen. Image agencies, like YAY, want to turn these users into customers.
The solution could be YAY's new image streaming service. The streaming option lets users stream unlimited images directly onto their website or blog. The price is just $9.90/month for unlimited images, making it possible for all online publishers to afford legal images. In addition YAY's innovative new image search is the best in the industry, and lets users search for legal alternatives to images they find online by just dragging-and-dropping the image into the search screen.
"Bloggers often 'borrow' images, since they can't afford to pay for a license, or they don't know that they have to. Instead of going after them with threats and fines, we wanted to create a product tailored for the online user," says Johannessen.
The reasoning is that people use Google images because they lack the knowledge and a better alternative. Image agencies, like Getty Images, Shutterstock and Corbis, are still targeting professional customers that are willing to pay substantially for high-resolution files. A blogger, or online publishers in general, don't need this. They're looking for cheap or free images, web-sized, that are easy to use and edit.
"We wanted to create a product for online users, with a focus on their actual needs. People don't need to download images when it's easier and faster to just stream them. People need great images for their blogs and websites and that's what streaming at YAY gives them", Johannessen continues. "We have even made it possible to edit the image directly in the browser".
Until now there was no such alternative available for online users.
"Options, like Flickr's Creative Commons, is flawed," Johannessen says. "There are lots of talented photographers, the concerns are with usability, and the license. It provides images that the content owner, the uploader has marked as OK to use commercially. The problem is what's in the picture. If it's a brand it's not OK to use it commercially. If it contains people the user will have to make sure the people depicted have signed a model release. For a professional image agency all this is taken care of and quality-controlled for the user."
YAY Streaming is available from http://yayimages.com.
Streaming features:

Unlimited use
$9.90/month, cancel at any time
Free hosting of all images streamed
Hosting continues after cancelled subscription
In-browser editing, add text and filters to images ++
4+ million images
Visual Search